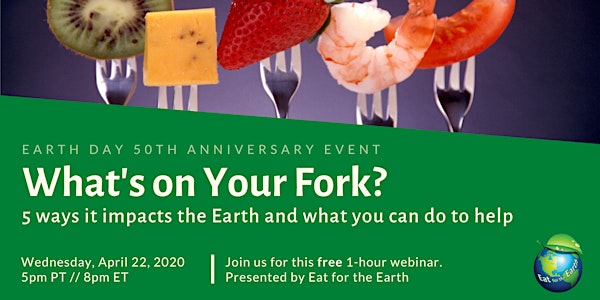 What's on Your Fork? 5 ways it impacts the Earth & what you can do to help
Celebrate the 50th Anniversary of Earth Day with Eat for the Earth!
Refund Policy
Contact the organizer to request a refund.
Eventbrite's fee is nonrefundable.
About this event
We are Altering the Earth's Environment
Scientists who study the Earth tell us that we are currently in an age in which one species is the primary driving force of environmental change, and we are that species. So far, we have inadvertently used this power to bring about such issues as climate crisis, species extinction, pollution, deadly toxins, and virulent viruses. We have the power to turn all of this around!
We Have the Power to Change
Since we are the ones driving the change, we have a tremendous opportunity to rise together as a global human family. We can make radical course corrections, allowing for the restoration of our Earth system.
The Earth has Tremendous Restorative Power
Right now we are witnessing the tremendous regenerative powers of the Earth, as people around the globe shelter in place, making lifestyle changes that have resulted in cleaner air and water. We can use this experience as inspiration, courageously taking on our environmental challenges, envisioning and working together toward a victorious outcome. Changes are needed across a wide range of human activities; when we make these changes, the rewards will be an increase in the health and well-being of the planet and all its inhabitants!
What We Eat Makes a Difference!
In this interactive and lively webinar, Rev. Beth Love of Eat for the Earth will share about our diets, perhaps the least discussed lifestyle factor that is implicated in many of our most pressing environmental issues. Learn what the research says about the most and least environmentally-friendly foods, the relative impact of production methods versus consumption patterns, and the changes in global human diets that could preserve the habitability of our planet. Get your questions answered. Find out how you can support the integration of global human diets into broader environmental conversations and actions.
The power to care for the Earth is in our hands…and on the ends of our forks.
About Our Presenter:
Rev. Beth Love is the author of the Tastes Like Love book series. A gifted speaker, facilitator, teacher, and ordained New Thought minister, Beth has motivated and educated people in diverse contexts such as nonprofit organizations, schools, churches, businesses, and the California State Prison system. She has inspired large and small audiences, in-person and through radio and television, from local community TV to the Oprah show. Due to her concern about the contribution of animal agriculture to the climate crisis and other environmental issues, Beth started Eat for the Earth, an organization that partners with institutions to adopt policies and practices that reduce purchasing and service of animal products to sustain all life on earth. Learn more and find out how you can get involved at EatForTheEarth.org.