Description
Technology promises to transform the restaurant industry. From talent management and personalization platforms to ghost kitchens and corporate catering marketplaces, startups are aiming to help restaurants improve operations and increase revenue. How do these technologies and new operational models work? What do they actually mean for restaurants?
Join us for What's Next in Restaurant Tech at WeWork HQ for a deep dive into Zuul, Harri and HUNGRY's business models, technologies, challenges and lessons learned. You'll also be able to network with the community, demo cutting edge restaurant technologies and sample innovative food & beverages.
Explore cutting edge technologies from The.Fit, Plate IQ, ItsaCheckmate, BentoBox, Food For All and OpenTable. Enjoy tasty bites and drinks from Hella Cocktail, Element Farms, Mosaic Foods, Jack & Friends, La Mere Beverage, Lazeez, Made Meals, Render, and Jenine's Plant-Based Creamery.

Do you have a food or beverage product you'd like to sample at this event? Apply here!
SCHEDULE:
6 - 7:30pm: Networking, tech demos and food and beverage sampling
7:30 - 9pm: Presentations + Q&A
9 - 9:30pm: Networking
PRESENTERS:
Corey Mancione, Co-Founder & CEO, Zuul
Corey is co-founder and CEO of Zuul, a turnkey solution for well-known restaurant brands, allowing effortless growth and new market share through access to a network of delivery only shared kitchen establishments. Before founding Zuul, Corey grew up in a family that owned and operated restaurants. In 2015 Corey was fortunate to be the first employee at Relay Delivery where he served as the Director of Sales and helped develop the optimal delivery playbook for restaurants in NYC. Today, Corey leverages his knowledge of the restaurant delivery scene and over-arching industry to help restaurants expand into new markets faster than they ever imagined possible.
Sean Fitzgibbons, Co-Founder & COO, Zuul
Sean worked in the food technology space, where he served as Director of Channel Growth with San Francisco based Zipongo, a digital nutrition platform that manages and reduces chronic disease by making it easy to eat well. Today, Sean acts as COO of Zuul, where he leverages his knowledge of the food tech space and experience in strategic partnership development to design initiatives that drive growth and ensure restaurant brand success.
Luke Fryer, Founder & CEO, Harri
Luke developed Harri to solve the hospitality industry's greatest challenges: finding, hiring and managing great talent. Harri is an entirely new kind of software platform for HR and operations: Workforce OS. Broad in scope, narrow in vertical focus and deep in rich, industry-specific functionality as a result. Harri consolidates up to 30 fragmented point solutions into single, elegant, mobile first enterprise platform and massively streamlines the chore of daily operational challenges faced by employees, line managers and executives alike.
Eman Pahlavani, Founder & COO, HUNGRY
In 2017 Eman founded HUNGRY, a DC based food-tech platform that connects independent chefs to offices for corporate catering. HUNGRY recently closed an $8 million dollar series A with backing from Motley Fool Ventures, Sands Capital, and Marcy Venture Partners (Jay-z's Venture fund). Today HUNGRY operates in 5 cities and will be in 20 cities by the end of 2020.
THANK YOU TO OUR PARTNERS

WeWork Food Labs is building a community of entrepreneurs, industry experts and investors to fix food, now and for the future. A workspace and global platform, Food Labs is dedicated to startups impacting the future of sustainable food.

OpenTable: We love what can happen around the restaurant table. Since 1998, we've been committed to empowering that experience. From helping restaurants grow and run their businesses, to enabling diners to discover and book the perfect table every time they dine, our story is one of connection—among diners, restaurants, and their communities. Every month, OpenTable diners write more than 1 million restaurant reviews. Our network connects diners with more than 51,000 restaurants worldwide and finds restaurants for more than 28 million diners each month.

James Beard Foundation: For more than 30 years, the James Beard Foundation has highlighted the centrality of food culture in our daily lives. Through the James Beard Awards, unique dining experiences at the James Beard House and around the country, scholarships, hands-on learning, and a variety of industry programs that educate and empower leaders in our community, the Foundation has built a platform for chefs and asserted the power of gastronomy to drive behavior, culture, and policy change around food.

METRO Xcel is a program for later stage startups in the restaurant and hospitality-tech sector. Run by METRO, Europe's predominant club wholesale grocer, on a quarterly basis, the program provides later stage founders with the necessary tools to scale fast and sustainably while also unlocking access to several sales channels. Applications are open now. Learn more and apply: www.metroaccelerator.com

Brooklyn Brewery: Like our namesake borough, the Brooklyn Brewery is made up of a rich collection of characters from all over the world. In our Williamsburg home, these characters are dedicated to brewing and selling great beer and enriching the communities we serve. Together, these Brooklyners have assembled the skills needed to transform a home brewing hobby into an independent brewery with a brand that has become an international beacon for good beer.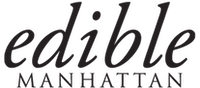 Edible Manhattan tells the story of how the city eats. Along with other Edible New York properties, we are part of a national network of Edibles across North America. We chronicle how the region eats. Through editorial and at events where our stories come to life, we celebrate the people who are building the sort of food culture we want—one that's diverse, accessible, sustainable and delicious.