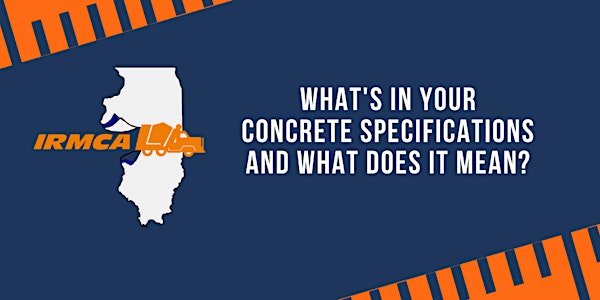 What's in Your Concrete Specifications and What Does it Mean?
What's in Your Concrete Specifications and What Does it Mean?
Date and time
Wednesday, May 19, 2021 · 10 - 11am PDT
Refund Policy
Contact the organizer to request a refund.
About this event
IRMCA would like to invite you to attend the eighth webinar in our Free Promotion Webinar Series which will be held on May 19th at 12:00 PM CST and is titled What's in Your Concrete Specification and What Does It Mean. This webinar will cover performance vs prescriptive specifications and cover what all engineers should have in their concrete specifications.
These webinars are a great source of information for you to learn about new products and trends in our industry like Portland Limestone Cement and CarbonCure as well as increase your knowledge on the uses of Cement Slurry, Concrete Overlays, and Fibers in Concrete. IRMCA has reached out to 175 civil engineering companies across the state of Illinois to introduce them to IRMCA, inform them of our free engineering assistance program, and to invite them to attend our Promotion Webinar Series. This strategy of interacting and networking with civil engineering companies will help increase the amount of concrete in the state of Illinois. All our 12 webinars in the Promotion Webinar Series will be recorded and posted on our website on the webinar pages.
Title: What's in Your Concrete Specification and What Does It Mean?
Speakers:
Scott Kelly, Director of Technical Sales at Ozinga
Gary Hall, Technical Support Manager at VCNA Prairie
Date and Time: May 19th, 2021 at 12:00 CST
Webinar Description:
Concrete specifications are loaded with ACI, ASTM, and AASHTO references that should be followed on the projects when concrete is being placed. Understanding what each one of these standards actually means and what is important in them can be difficult. This webinar will review some of these standards to increase your knowledge. We will also touch on the following items that should be listed in your specification like listing the contractor as responsible for hiring the lab of record to take cores, allowable fly ash, Portland limestone cement, and slag replacement levels, concrete strength, w/cm ratio, slump and air content for parking lot pavements, aggregate requirements, admixture/fiber requirements, addressing cylinder storage on site, discussing cold weather and hot weather concreting, preconstruction meeting to discuss jobsite testing, special testing requirements (e.g. ASR), and performance vs prescriptive mixes.
IMPORTANT NOTE: TO ATTEND THE WEBINAR ON MAY 19th AT 12:00 PM CST, YOU WILL NEED TO CLICK ON THE LOGIN INFORMATION AT THE BOTTOM OF THE REGISTRATION CONFIRMATION EMAIL THAT YOU RECEIVE FROM EVENTBRITE. YOU CAN COPY AND PASTE THIS ZOOM WEBINAR LOGIN INFORMATION INTO YOUR CALENDAR.
If you have any questions please contact me.
Thanks,
Jim Randolph
Executive Director
Illinois Ready Mixed Concrete Association
Cell 217-725-0096, Office 309-862-2144
Email jrandolph@irmca.org
www.irmca.org
Vision 2021
DESIGN WITH CONCRETE
Free Concrete Pavement Engineering Assistance