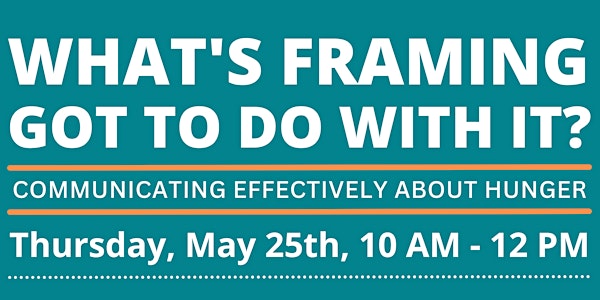 What's Framing got to do with it? Communicating Effectively about Hunger.
Join Dr. Lynn Davey, NHHS, and NHCHF for a FREE 2-hour training about discussing and framing hunger and food insecurity.
Date and time
Thursday, May 25 · 10am - 12pm EDT
Location
NH Hunger Solutions 100 North Main Street #Suite 400 Concord, NH 03301
About this event
Session Description:
The way we talk about food insecurity impacts how people understand its causes and solutions. In this workshop, participants will learn which message strategies work and which don't to improve understanding of hunger and food insecurity.
Desired Outcomes:
Learn basic principles of framing science and how people tend to reason about the causes of and solutions to social problems.
Understand which framing strategies are more or less effective in improving understanding of hunger and food insecurity.
About Our Presenter:
Dr. Lynn Davey is the President of Davey Strategies and a psychologist whose work focuses on bringing cognitive and social science to bear on communication strategies for social and public health problems. Lynn began her career as a professor of psychology but left her tenured position to focus on bringing social science to social change efforts – first becoming research director at a policy advocacy organization, and later serving as Vice President of the FrameWorks Institute, a framing science think tank in Washington, D.C. In 2011, she started her own consultancy from her home base of Portland, Maine and, through trainings and intensive technical assistance, focuses on helping experts and advocates apply framing research to their own work.