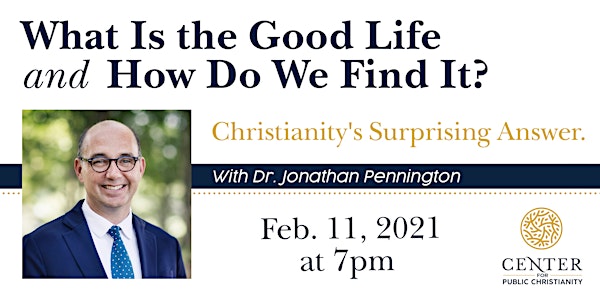 What Is the Good Life and How Do We Find It?
Discover Christianity's surprising answer to the good life at this Center for Public Christianity forum featuring Dr. Jonathan Pennington.
About this event
Followers of Jesus are those who have embraced his promise of abundant life. But if we're honest, the life Jesus offers is sometimes confused with the beautifully appointed, neatly arranged images out of Better Homes & Gardens – and when it doesn't quite measure up, we become disillusioned or disappointed.
Join the Center for Public Christianity as Dr. Jonathan Pennington, Biblical scholar, author and teacher, helps us redefine the good life and rediscover Jesus who shows us how to live deeply meaningful and flourishing lives.
Register for our online forum, which will be livestreamed from Holy Trinity Anglican Church.
Evening's Program
Welcome and Introduction by Dr. Joshua Chatraw, Center for Public Christianity Executive Director
Talk by Dr. Pennington
Q&A with Drs. Pennington and Chatraw
Closing Remarks by Dr. Chatraw
About the Speaker
Dr. Jonathan Pennington is currently Associate Professor of New Testament Interpretation Southern Seminary and is a pastor at Sojourn East in Louisville, Kentucky. He holds a PhD in New Testament Studies from the University of St. Andrews, Scotland and has published several books, including The Sermon on the Mount and Human Flourishing, Reading the Gospels Wisely, Heaven and Earth in the Gospel of Matthew, Reading the New Testament as Christian Scripture, and his newest, Jesus the Great Philosopher. He is also the host and co-producer of the YouTube show Cars, Coffee, Theology.
About the Host
Josh is the executive director of the Center for Public Christianity, lead teacher for New City Fellows, and theologian-in-residence at Holy Trinity Anglican Church. His writing and speaking focus on public theology, apologetics, and culture. He has written and edited several books, including Apologetics at the Cross, Cultural Engagement, The History of Apologetics, Telling a Better Story, Truth Matters, and Truth in a Culture of Doubt. His writing has received numerous awards: Christianity Today Book of the Year - Apologetics/Evangelism, Outreach Magazine Resource of the Year in Apologetics, and The Gospel Coalition's Book of the Year in Apologetics/Evangelism.