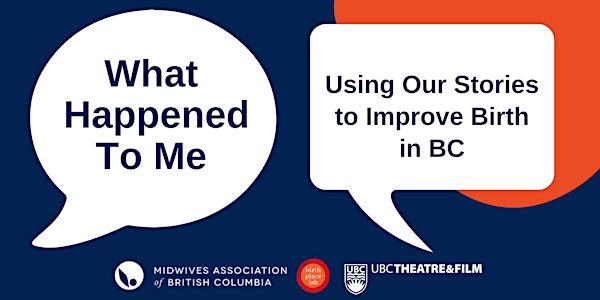 What Happened to Me: Using Our Stories to Improve Birth in BC
Event Information
Location
Edmonds Community Centre
7433 Edmonds St, Active Studio Rm 176
Burnaby, BC V3N 1B2
Canada
Description
A play inspired by conversations with families during a province wide study on pregnancy and childbirth in British Columbia
The Changing Childbirth in BC Study invites you to a performance inspired by the thousands of stories families shared about their experiences of pregnancy and birth. Afterwards, join us for a Talk Back session! Bring your ideas on how to improve health care for parents and babies in BC.
One presentation on March 14, 2020:
5:30 pm - 7:00 pm
UPDATE: Thank you for your questions about today's performance.
We have been following the health advisories closely. As we are expecting less than 75 participants, at this time we are still presenting the play. We look forward to seeing you!
Childcare will be held at the multipurpose room 173, starting at 5 pm. Please note that our capacity will depend on the number of childminders available and spots are not guaranteed.
Location
Edmonds Community Centre
7433 Edmonds St, Active Studio Rm 176
Burnaby, BC V3N 1B2
Canada