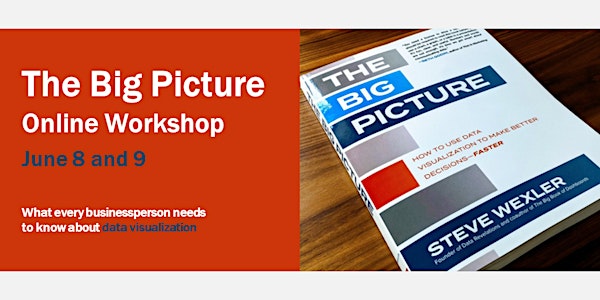 What Every Businessperson Needs to Know About Data Visualization
Jumpstart your organization's understanding of data visualization with the best-selling author of The Big Picture
By Steve Wexler of Data Revelations
Date and time
June 8, 2022 · 8am - June 9, 2022 · 9:30am PDT
Refund Policy
Refunds up to 30 days before event
Eventbrite's fee is nonrefundable.
About this event
Description
Perhaps you'll be presenting to a packed boardroom, or maybe you'll be conversing one-on-one with a supervisor, colleague, or client. Either way, you'll need to be equipped with facts that people can see and understand. But before you give that presentation, or have that conversation, take this workshop – and learn why that pie chart you planned to include would be a terrible choice!
Whether you're creating your own charts, using someone else's, or you just need to be more confident in how to use and interpret graphs, this workshop will help you become fluent in the language of charts and dashboards.  
Packed with great examples created in Excel, Tableau, Power BI, and Qlik, among others, this one-stop resource empowers you to extract the most important information from data visualizations quickly and accurately, act on key insights, solve problems, persuade others, and make the right decisions for your organization every time.
Length
Two 90-minute sessions presented over two days (June 8 and 9)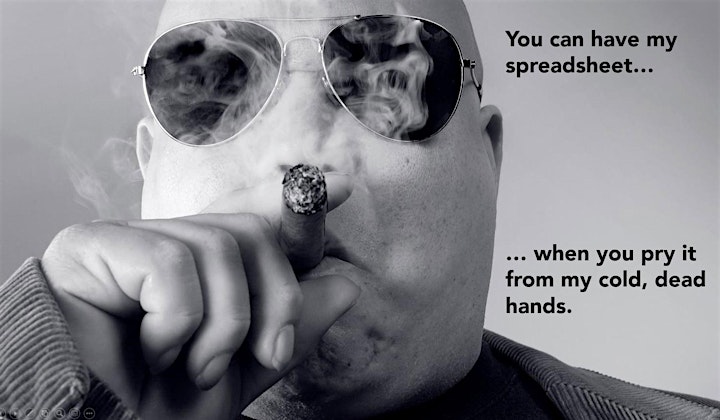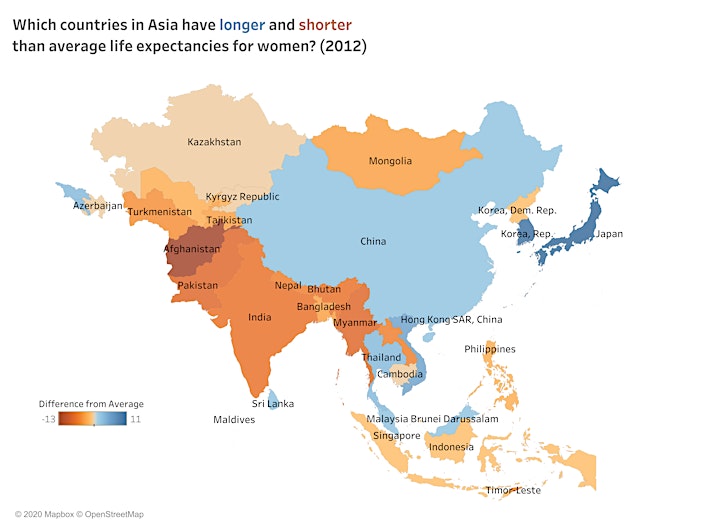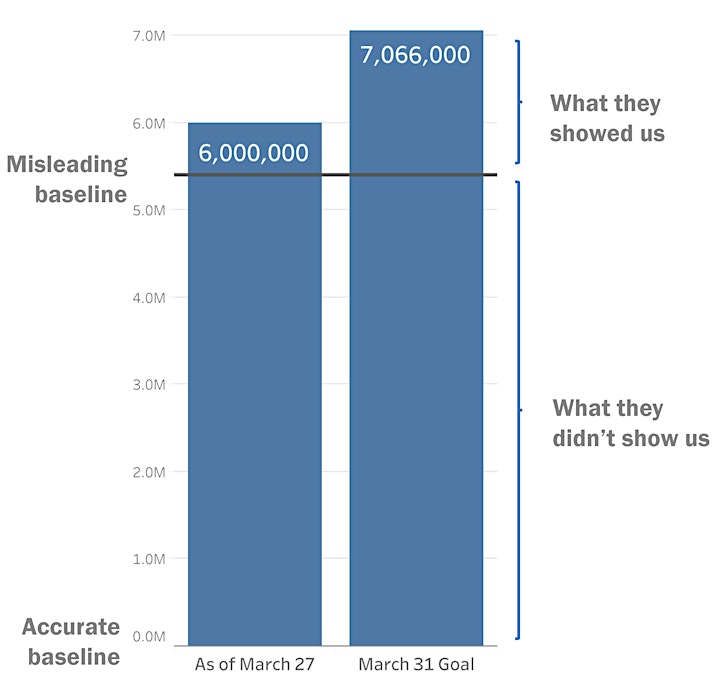 Who should attend this workshop
People who are new to data visualization and who will be creating charts, dashboards, and presentations
People who will be giving presentations and have a say on what charts should go in them (but will not be making the charts themselves)
People who may never create a chart but need to be able to understand and use them
People who manage data visualization practitioners and need to know the challenges they face
Experienced practitioners who want help evangelizing the value of good data visualization
Benefits
By taking this course you will at the very least become an "informed consumer" of data visualization who will be better able to contribute to your company and your community by
Getting yourself and others to "aha", faster
Persuading people with facts they can see and understand
Distinguishing among helpful, misleading, and deceitful charts
Making better decisions
Materials
Each attendee will receive a copy of The Big Picture: How to Use Data Visualization to Make Better Decisions—Faster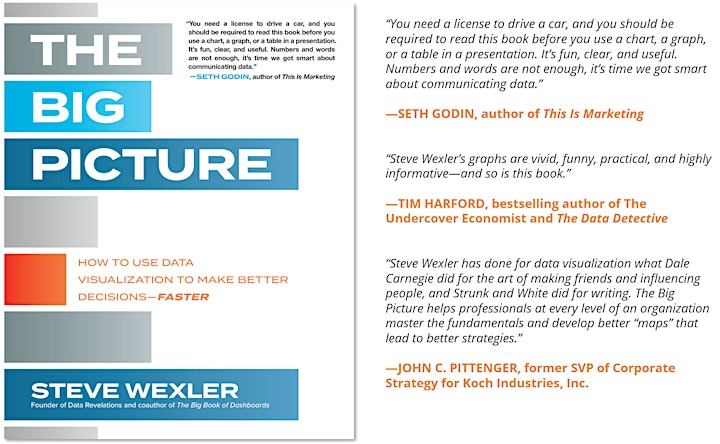 Topics will be based on the author's book The Big Picture: How to Use Data Visualization to Make Better Decisions—Faster and will include
Why numbers are not enough: you may be great at spreadsheets, but you are missing out on things that will help you
How to get over the hurdles
The five ways color are used in data visualization (and why this matters)
Ten chart types you should absolutely understand
When charts misbehave: how to recognize and remedy unhelpful, misleading, and deceitful charts and dashboards
Dashboards, interactivity, and storytelling
Why collaboration is so important
Group exercise: what's wrong with these charts and what would make them better?
How to drive change in your organization
About the presenter
Steve Wexler is the founder of Data Revelations, author of The Big Picture: How to Use Data Visualization to Make Better Decisions—Faster (winner of Data Literacy's Most Insightful Data Book) and co-author of The Big Book of Dashboards: Visualizing Your Data Using Real-World Business Scenarios.
Steve has worked with ADP, Gallup, Johnson & Johnson, Deloitte, ExxonMobil, Convergys, Consumer Reports, The Economist, SurveyMonkey, Con Edison, D&B, Marist, Cornell University, Stanford University, Tradeweb, Tiffany, McKinsey & Company, and many other organizations to help them understand and visualize their data. A Tableau Zen Master (Hall of Fame) and Iron Viz winner, Steve also serves on the advisory board to the Data Visualization Society and is co-host of the popular webinar series Chart Chat (winner of Data Literacy's most interesting podcast award).
His presentations and training classes combine an extraordinary level of product mastery with the real-world experience gained through developing thousands of visualizations for dozens of clients. Steve has taught thousands of people in both large and small organizations and is known for conducting his workshops and presentations with clarity, patience, and humor.