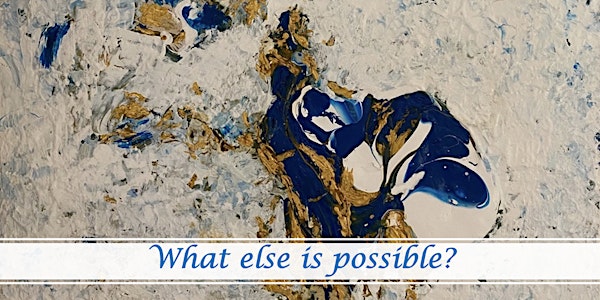 What Else is Possible?
Class: What Else is Possible in Your Life?
Refund Policy
Refunds up to 1 day before event
Eventbrite's fee is nonrefundable.
About this event
Tired of Going Nowhere? Tired of being anxious? Tired of being stuck?
You don't have to struggle alone.
Do you feel like you're going nowhere BUT you know there's somewhere you want to go?
So much is possible!
Join me for a month of Life-Enhancing & Life-Changing classes that will show you How to:
- Get UNSTUCK and Get Relief from Overwhelm and Confusion
- Shift your emotions quickly and easily WITHOUT TAKING PILLS
- Access your creativity and imagination to find your CLEAR DIRECTION
We will meet every Tuesday from 7 to 9 pm for a true mind-over-matter treat!
Medge Jaspan is a Positive Psychology Practitioner, Life Coach, and French Abstract Artist. She graduated from Columbia University with a Master's in Psychology with a concentration in Mind, Body, Spirit practices. Medge believes it's all about energy and bringing more happiness into life. As a Positive Psychology Practitioner, her passion is to motivate, inspire, and encourage you to embrace and enjoy your uniqueness. She helps you connect to your highest potential. She guides you to define your weaknesses and transform them into assets, recognize and develop your strengths to become the powerful YOU! She encourages you to handle daily struggles better and thrive. With Medge you will realize that you are unique and fabulous and it's already a true strength!
Change your energy, change your reality!
Welcome, you are beginning a Mind-Body-Spirit journey to unveil what lights you up, discover your real strengths, and understand how to use your weaknesses.
We need intention, attention, and commitment to stop hiding and be fully authentic.
Bessel Van Der Kolk, researcher, and psychiatrist, in his book The Body, Keeps the Score: Brain, Mind, and Body in the Healing of Trauma describe how stress and trauma deeply affect the brain and body.
We must initiate change, we must let go of the past!
Every week on Tuesday at 7 pm EST, we will investigate the mind, learn and understand the tools to stop hiding and be ourselves.
Let's initiate your change together!
Change your energy, change your reality!