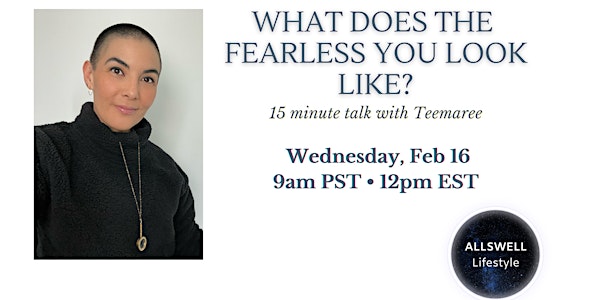 What Does the Fearless You Look Like? with Teemaree
An opportunity to ask, vision, and answer the question.
About this event
Experience a 15 minute talk to ask, vision, and potentially begin to discover the fearless you. Part lecture and part opportunity for interaction. The message will be delivered in 15 minutes with an option for extra dialogue afterward. Join from the comfort and safety of your own location. All are welcome.
When:
Wednesday, Feb 16, 12-12:30 PM EST • 9-9:30 AM PST
Where:
Online via Zoom
Admission:
Free
Presented by ALLSWELL Lifestyle, led by Teemaree. Teemaree founded ALLSWELL Lifestyle after 20+ years of studying, implementing, and coaching personal development and spiritual techniques. In addition to ALLSWELL Lifestyle, she helps people feel love, gain power, and have success, with products, practices, and coaching. For more on Teemaree visit teemaree.com
ALLSWELL Lifestyle is an online store, church, and retreat center. We provide goods and services that uplift, empower, and transform. Join our email list for exclusives and discounts at allswelllifestyle.com