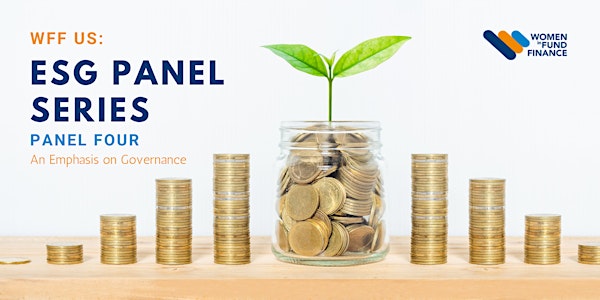 WFF US: ESG Panel Series - Part Four, an Emphasis on Governance
Join WFF on December 8 from 10:30 - 11:30 am EST for our fourth session in the ESG Panel Series with an emphasis on governance
About this event
With COP26 having just concluded and climate change and social issues making headlines, it's easy to forget that the "G" in ESG is for Governance and that the "E" and "S" are simply sets of the myriad factors that a company considers as it assesses its risks and opportunities, forms its strategy, articulates its ethical standards, sets policy & procedures, manages assets (including but not limited to funds, human capital, data and physical assets), monitors performance, evaluates & communicates results and otherwise engages with its stakeholders.
Join WFF for its fourth ESG Panel for 2021 as we explore the various aspects of Governance. This panel promises a robust discussion by leaders representing a wide range of perspectives on Governance. Returning ESG Panel Moderator Shari Siegel will be joined by Judith Albert, Andrea Bonime-Blanc, Robert Duggan, Sandi Kim-Suk and Jean-Paul Peters for this event.
Moderator:
Shari Siegel - Managing Director, General Counsel & Secretary at Ranieri Partners LLC
Speakers:
Judith Albert - Adjunct Professor at The New School
Andrea Bonime-Blanc - Founder & CEO of GEC Risk Advisory
Robert Duggan - Principal, Alphataur Partners
Sandi Kim-Suk - CFO of Engine No. 1
Jean-Paul Peters - Founder of Kombit Consulting
Shari Siegel
Shari Siegel is Managing Director, General Counsel & Secretary at Ranieri Partners LLC. She advises corporations, institutional investors and other sophisticated clients on a range of strategic, governance and transactional matters. In addition, she serves as an advisor and coach on business sustainability/ESG topics. In addition to her JD, she has an MBA in Sustainable Innovation.
Judith Albert
Judith Albert is an Adjunct Professor at The New School, where she teaches on Corporate Sustainability. She is past Chair of Cornerstone Capital Group and serves on the board of Inside Climate News, as well as other nonprofits. Her career has spanned corporate law, investment banking and environmental policy.
Andrea Bonime-Blanc
Andrea Bonime-Blanc is Founder & CEO of GEC Risk Advisory, a global ESG, ethics and cyber-strategist, and former global corporate executive. She serves on several boards and advisory boards, is a member of the Council on Foreign Relations, and is author of multiple books including her latest Gloom to Boom: How Leaders Transform Risk into Resilience and Value (Routledge 2020) and The ESGT Megatrends Manual (Diplomatic Courier 2021). She was born and raised in Europe, lives in NYC and received her JD and PhD in Political Science from Columbia University.
Robert Duggan
Robert Duggan is an independent director of alternative investment funds, with appointments which span private equity and hedge funds. As a former law firm partner who has practised in Asia, Europe and the Americas, Rob brings global perspective to bear in the boardroom, in addition to legal and regulatory expertise.
Sandi Kim-Suk
Sandi Kim-Suk is CFO of Engine No. 1, an impact investment firm which uses a data driven approach to investing that allows firms to put a tangible value on the environmental, social and governance actions which leads to long-term financial value creation.
Jean-Paul Peters
Jean-Paul Peters is the Founder of Kombit Consulting, an advisory business focused on helping funds find the right solutions to meet their banking and financing needs. As a former banker whose varied and multi-disciplined career included over a decade supporting the funds industry, JP has extensive knowledge of the funds market. JP brings to the panel practical experience of the governance that is core to the stakeholder relationships that underpin both funds financing solutions and the fund structures themselves. He has keen interest in the development of ESG-linked credit lines and has worked with Kombit Consulting's clients support them on their ESG transition journeys.
Event Information
Date: Wednesday, December 8, 2021
Time: 10:30 am - 11:30 pm EST 
Location: Virtual (Zoom)
Subscribe to Women in Fund Finance