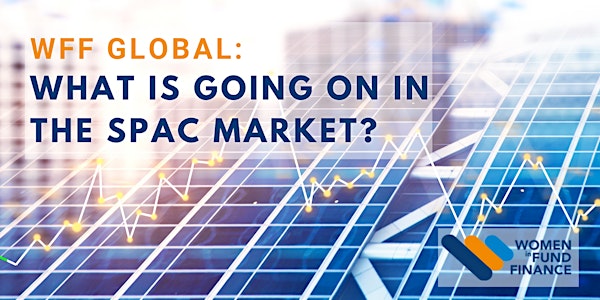 WFF Global: What is going on in the SPAC market?
Join us Wednesday, April 21, 2021, for the upcoming WFF Global: What is going on in the SPAC market?
When and where
Location
Virtual Call EST New York, 10018
About this event
See the SPAC market from active:
SPAC sponsors targeting investments
SPAC Investor's view
Investment Banking and Underwriter's view
Moderator:
Marshall Shaffer - Partner, Kirkland & Ellis LLP
Panelists:
Thomas Amburgey - Director, First Reserve
Nichole Burnap - Portfolio Manager SPACs, Teachers Retirement System of Texas
Amit Chandra - Managing Director, Head of Natural Resources & Sustainable Impact Equity Capital Markets, Barclays
Carol Lowe - Independent Director, TCW Special Purpose Acquisition Corp.
Brett Northart - Management Team, Kernel Group Holdings, Inc.
About the Speakers:
Marshall Shaffer, Moderator:
Marshall Shaffer is a corporate partner in the New York office of Kirkland & Ellis LLP. His practice primarily focuses on mergers and acquisitions, corporate and securities law matters and corporate governance. In addition, Marshall has extensive experience advising on business combination transactions involving special purpose acquisition companies (SPACs).
Marshall has advised both public and private companies and private equity firms in a wide range of industries in connection with mergers and acquisitions, divestitures, complex carve-outs, cross-border transactions, growth equity deals and securities offerings. Marshall has also advised with respect to proxy contests, shareholder activism, takeover defense strategies and other corporate governance matters.
Marshall received his B.A., cum laude, from Yale University in 2007. Marshall completed a J.D. from Stanford Law School in 2010, where he served as articles editor of the Stanford Law & Policy Review.
Thomas Amburgey, Panelist:
Thomas Amburgey, Director, joined First Reserve in 2012. During his time at First Reserve, Mr. Amburgey has been focused on investing across the global energy value chain, with particular emphasis on critical infrastructure and value-added equipment, manufacturing and services, and is currently responsible for helping lead First Reserve's investment initiatives across sustainability and energy transition as well as its internal ESG Group. Mr. Amburgey serves or has served on the board of directors of various First Reserve portfolio companies or affiliates, including several of the companies through which First Reserve is progressing sustainability and ESG-related growth strategies. Prior to joining First Reserve, he was an Analyst in the Financial Sponsors and Leveraged Finance division at UBS Investment Bank. Mr. Amburgey holds a B.B.A. and a Master of Accountancy from the University of Georgia.
Nichole Burnap, Panelist:
Nichole Burnap is the Head of Equities on the Special Opportunities Team at the Teachers Retirement System of Texas (TRS), where she manages SPAC investments and leads the trust-wide SPAC Task Force. Prior to joining TRS, Ms. Burnap was an equity analyst at Glenview Capital Management and Kynikos Associates. She began her career on Wall Street in Credit Suisse's Equity Research Department. Ms. Burnap graduated from Wake Forest University, is a member of the FASB's Investor Advisory Committee and is a CFA Charterholder.
Amit Chandra, Panelist:
More than 20 years of investment banking and capital markets experience
Amit's focus is on clients in the sustainable impact, energy, chemicals and metals & mining sectors
Completed over 500 natural resources, sustainable and impact related equity and equity-linked transactions, including 70+ IPOs, totaling over $170 billion since 2005
Amit graduated with a degree in Business Commerce from McGill University and holds an MBA from Tuck School of Business at Dartmouth
Carol Lowe, Panelist:
Carol P. Lowe serves as Executive Vice President & Chief Financial Officer of FLIR Systems, Inc. (NASDAQ: FLIR), with business in 32 countries that is a world leader in innovative sensing technologies. Carol previously served as Senior Vice President & CFO of Sealed Air Corporation (NYSE:SEE).
Carol spent 10 years at Carlisle Companies Incorporated (NYSE:CSL), a diversified industrial serving a variety of end markets through a decentralized group of companies. During her time at Carlisle, Carol served in a variety of roles including Vice President & CFO. She also served as President for two of the Carlisle companies, Trail King Industries and Carlisle FoodService. Prior to joining Carlisle, Carol was with National Gypsum Company, a leading manufacturer and supplier of gypsum board and drywall products. Carol began her career at Ernst & Young LLP and is a licensed CPA.
Carol currently serves as a board member for EMCOR Group (NYSE:EME) where she also serves on the audit committee. She also recently joined the boards of TCW Special Purpose Acquisition Corp. (NYSE: TSPQ-UN) and Novolex, a privately held industry leader in packaging, and serves on the audit committees of each of these companies. Carol was a member of the board of directors of Cytec Industries, Inc. (NYSE:CYT) for 8 years until its acquisition in 2015. Carol currently is a member of the Board of Vistors for the Fuqua School of Business at Duke University and is a member of the Finance Committee. She is also a member of C200, a global women's executive leadership organization, and Women Corporate Directors. She graduated from UNC Charlotte with a BS in Accounting and holds her MBA from the Fuqua School of Business at Duke University.
Brett Northart, Panelist:
Brett Northart is a technology entrepreneur and executive whose career has been focused on both building and advising rapidly growing companies within the eCommerce and software industries. Mr. Northart co-founded and served as President and as a member of the board of directors of Le Tote, the leading subscription rental service for everyday apparel and accessories, beginning in 2012 until 2020. Le Tote created an entirely new category in eCommerce and built proprietary tools and technology enabling reverse logistics, modern warehouse management and personalization at scale. At Le Tote, Brett assembled and scaled teams and led all technology and product development. While at Le Tote, he also initiated, structured and led the acquisition of Lord & Taylor, the oldest department store chain in the United States grossing over $1 billion in revenues with 4,000 employees in 2019. Brett also served as Chief Digital Officer of Lord & Taylor from 2019 to 2020, focused on transforming the digital experience, modernizing the technology stack and increasing the overall eCommerce penetration. Brett has raised over $300 million in capital from top-tier venture capital and private equity firms such as Google Ventures, Andreessen Horowitz, Y Combinator, Wells Fargo and The Carlyle Group. Prior to founding Le Tote, he worked as an investment banker at Ridgecrest Capital Partners from 2009 to 2012, where he executed a variety of M&A transactions and capital raises for technology companies. Mr. Northart began his career in the Private Equity Group at Bainbridge Capital in 2007, followed by his role as an analyst in the Technology Investment Banking group at Stifel from 2008 to 2009. Brett holds bachelor's degrees in Political Science & Economics from the University of California, San Diego.
Event Information
Date: Wednesday, April 21, 2021
Time: 11:00 am- 12:15 pm EDT 
Location: Virtual (Zoom)