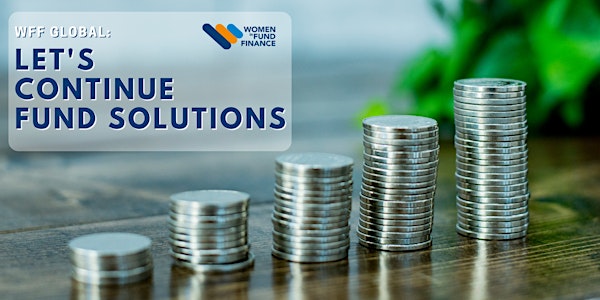 WFF Global- Let's Continue Fund Solutions
Join us Tuesday, October 5 for the upcoming WFF Global virtual event, Let's Continue Fund Solutions!
About this event
Due to high levels of demand, we are hosting a follow-up to our first liquidity solutions panel in July with a second panel again bringing together industry experts who have been at the forefront of structuring alternative liquidity solutions for private markets managers. The panel will discuss the latest trends in capital raising and how structured liquidity solutions are being used by private markets managers to manage portfolios.
Moderator:
Samantha Hutchinson- Fund Finance Partner, Cadwalader, Wickersham & Taft LLP
Speakers:
Andie Goh – Principal, Alternative Credit, Ares
Helen Griffiths –Head of Structuring and Strategic Solutions, Investec
James Lumby – Executive Director, Alternative Capital Solutions Group, Goldman Sachs
Patricia Teixeira – Counsel, Ropes & Gray LLP
Donna Yip – Managing Director, Antares Capital LP
Event Information
Date: Tuesday, October 5, 2021
Time: 10:00 - 11:00 am EDT / 3:00 - 4:00 BST
Location: Virtual (Zoom)