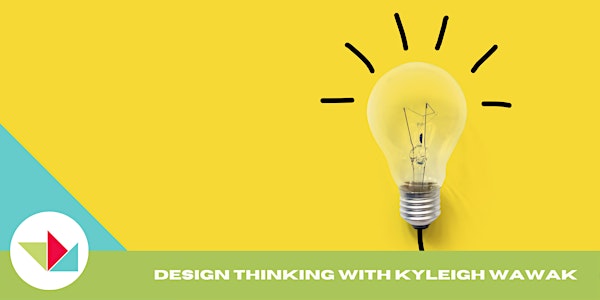 WEW 2021 Design Thinking Workshop with Kyleigh Wawak of Salesforce Ignite
WEW 2021 Design Thinking Workshop with Kyleigh Wawak of Salesforce Ignite
Refund Policy
Contact the organizer to request a refund.
Eventbrite's fee is nonrefundable.
About this event
What You Can Expect:
Join us for an interactive workshop led by a dynamic design thinking professional with a varied professional background and a real passion for helping others! In this guided session, you will work on the steps needed to connect ideas to concept while learning from someone who is an expert at getting others to open up creatively while thinking critically and strategically about the development process.
This workshop is ideal for anyone hoping to test their value proposition–or for anyone who wants to consider what new product or service concepts might add to their current line. Even if you're just starting out and have no experience with design thinking or concept testing, you'll find value in this conversation and workshop combined!
You should come prepared to work! Bring post-its, paper, markers, notebooks, your Miro board–anything you can use to really dig in, explore, and play!
The People Involved:
Kyleigh Wawak works in a most unlikely place for a food innovation professional—a tech company! She works for Salesforce as a member of Ignite, an innovation consulting team that partners with Salesforce's most valued customers to transform their futures. Like many innovation professionals, her background is varied and her career path winding, beginning with an undergraduate degree in accounting that led to a mind-numbing desk job that served as a wake-up call: follow your passion!
Kyleigh's passion led to culinary school at Kendall College in Chicago and working as a consultant for a variety of food companies before landing at gravitytank, a design-led innovation consultancy.
It was at gravitytank that Kyleigh and her colleagues developed the practice of Food Experience Design—a holistic, user-centered approach to food innovation that goes way beyond the product and packaging to consider all aspects of the ecosystem as opportunities for innovation. She has worked for companies like Pepsico, Quaker, Mondelez, Hormel, and AB InBev to reinvigorate brands, address new markets, and launch new products.
Kyleigh believes design thinking is a powerful tool to solve all kinds of problems, big and small, and is something that everyone can do, not just designers or innovation professionals. She lives in London with her husband and Persian cat Sheila, and in her spare time you can find her cooking up a storm, perfecting her downward dog, and getting lost in narrow streets throughout Europe.
About WEW 2021:
Women's Entrepreneurship Week is a proud Milwaukee brand with a global focus. We're sharing the stories of local women and their organizations–while we engage in thoughtful conversations with leaders everywhere.
Our conference events are held annually during Global Entrepreneurship Week (November) and National Entrepreneurs Week (February) – with specialized programming, workshops, and conversations held throughout the year.
We celebrate the opportunity to collaborate, create, and amplify big ideas and important actions! These events highlight the power of women everywhere–but all participants and supporters are welcome.