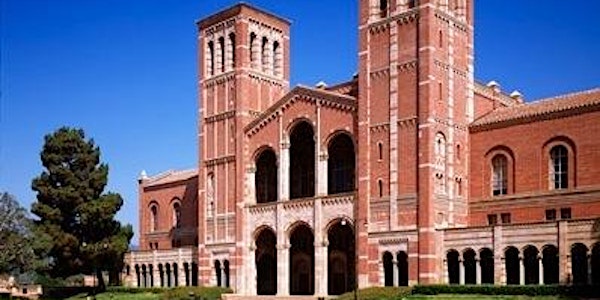 West Coast Experiments 2017: UCLA
When and where
Location
Covel Commons Grand Horizon Ballroom 200 De Neve Drive Los Angeles, CA 90095
Description
West Coast Experiments Conference, UCLA 2017
****
Important note1: We have admitted everyone off of all three wait lists. You should have already received an email to confirm this.
****
Important note2: The room for the Sunday, April 23 methods workshop is *Boelter Hall 3400* on the UCLA campus.

You can find Boelter Hall by clicking the UCLA campus map, http://maps.ucla.edu/campus/ and then choosing "Buildings" on the drop down menu, and then choosing Boelter.

​Please do not go to Covel Commons on Sunday; no one from the WCE conference will be there on Sunday. Only the sessions on Monday and Tuesday will be at Covel Commons.
NOTE: The conference registration has sold out. We have admitted you if you originally signed up for a wait list for any of the three days.
The tenth annual West Coast Experiments Conference will be held at UCLA on Monday, April 24 and Tuesday, April 25, 2017, preceded by in-depth methods training workshops on Sunday, April 23.
The WCE is an annual conference that brings together leading scholars and graduate students in economics, political science and other social sciences who share an interest in causal identification broadly speaking. Now in its tenth year, the WCE is a venue for methodological instruction and debate over design-based and observational methods for causal inference, both theory and applications.
The speakers are Judea Pearl, Rosa Matzkin, Niall Cardin, Angus Deaton, Chris Auld, Jeff Wooldridge, Ed Leamer, Karim Chalak, Rodrigo Pinto, Clark Glymour, Elias Barenboim, Adam Glynn, and Karthika Mohan.
Registration is free, but you must register at wce2017ucla.eventbrite.com to get a ticket for each day you plan to attend. Registration is first-come-first-served. <The deadline to register is April 18, 2017 at 8:00 AM PDT.>
We also will host free in-depth methods training workshops on the afternoon of Sunday, April 23. We are currently planning these workshops so please watch this space for upcoming details. The topics will include causal graphs and big data. You can register for these workshops when you register for the conference.
This conference is funded by a generous grant from the Alfred P. Sloan Foundation and sponsored by the UCLA Department of Political Science, the UCLA California Center for Population Research, the UCLA Center for Social Statistics, and the UCR School of Public Policy.
The organizing committee this year is Chad Hazlett, Judea Pearl, Rodrigo Pinto, and Manisha Shah.
For those unable to attend, we will be creating a conference webpage to archive the papers and presentations. Please check back to the Eventbrite announcement page one week prior to the conference where we will post the URL for the paper and presentation archive.
Scroll down to see the agenda, venue and location, meals, and parking and hotel information.
---
Agenda
Sunday, April 23
11:00 – 4:00 PM Training workshops on causal graphs and other topics. Instructors: Judea Pearl, Elias Barenboim, and others. Lunch will be served. Details below.
Monday, April 24
8:00 – 9:00 AM Breakfast
9:00 – 9:15 AM Introductory Remarks
First Panel: Modeling, Graphs, and Machine Learning
9:15 – 10:00 AM Judea Pearl (UCLA Computer Science and Statistics) Eight Pillars of Causal Wisdom (or, what you can do with a graphical model that you cannot do without).
10:00 – 10:45 AM Rosa Matzkin (UCLA Economics) Identification in simultaneous equation models
10:45 – 11:00 AM Break
11:00 – 11:45 AM Niall Cardin (Google) Causal inference for machine learning systems that make decisions: The simple power of randomization
Lunch and Keynote Speaker
11:45 AM – 1:00 PM Lunch
1:00 – 2:00 PM
Angus Deaton (Princeton Economics) Understanding and misunderstanding randomized controlled trials
Second Panel: Causal Inference in Econometrics Training
2:00 – 2:30 PM Chris Auld (University of Victoria Economics) Trends in econometric pedagogy (no discussion)
2:30 – 3:00 PM Adnan Darwiche (UCLA) On Model-Based versus Model-Blind Approaches to Artificial Intelligence (no discussion)
3:00 – 3:30 PM Ed Leamer (UCLA Economics) Open discussion, causal inference in econometric education
Third Panel: Identification in RCTs and Observational Designs
3:30 – 4:15 PM Karim Chalak (UVa Economics) Measurement Error without Exclusion: the Returns to College Selectivity and Characteristics
4:15 – 5:00 PM Rodrigo Pinto (UCLA Economics) Randomized Biased-controlled Trials: Connecting Incentives and RCTs
Tuesday, April 25
8:00 – 9:00 AM Breakfast
Fourth Panel: Graphs and Bayes Nets: Theory and Applications
9:00 – 9:45 AM Clark Glymour (Carnegie Mellon Philosophy) Explanatory Research vs Confirmatory Research: Undoing Ioannidis' Argument
9:45 – 10:30 AM Elias Barenboim (Purdue Computer Science) Causal Inference and the Data-Fusion Problem
10:30 – 11:15 AM Adam Glynn (Emory Political Science) Front-door approaches to causal inference without control units
11:15 - noon Karthika Mohan (UCLA Computer Science) Missing Data as a Causal Inference Problem -- New Results
---
Venue
The conference will be held in the Covel Commons Grand Horizon Ballroom (Salon A). Covel Commons is located in Sunset Village on the UCLA campus. 200 De Neve Drive, Los Angeles, CA 90095. You must register at this website and purchase a free ticket for each day you plan to attend.
---
Methods Training Workshops
On Sunday, April 23, from 11:00 to 4:00 PM, we will host methods training workshops on causal graphs and other topics. The instructors will be Elias Barenboim, Judea Pearl, and others. We are still planning these workshops and we will provide more details soon, but please plan to attend. You can register for these workshops at the conference registration website. Lunch will be provided.
---
Meals
We will provide breakfast and lunch to all attendees on Monday, April 24, and breakfast on Tuesday, April 25. For dinner on April 24, we will provide recommendations for restaurants nearby the UCLA campus.
---
Parking
For directions to UCLA, you can browse the transportation web site at http://www.transportation.ucla.edu and under the "Visitors Parking" heading you will find the "Directions to Campus" link (on the right hand side), that takes you right to the driving "Directions to UCLA" page. The campus map identifies location of Covel Commons and parking structures, http://www.ucla.edu/map/ucla-campus-map.pdf.
The daily rate parking in the parking structures is $12.00. There is limited parking in the Sunset Village Parking Structure (PSV) close to the Covel Commons conference venue, which can accommodate about 30 cars only. We will provide additional details on parking options in the coming weeks. Note that parking on the UCLA campus can be a challenge and we recommend you plan in advance and then arrive with enough time to spare in case your preferred structure is full.
---
Hotels
Luskin Conference Center Hotel. We have reserved a block of rooms at the UCLA Luskin Conference Center hotel.
UCLA Meyer & Renee Luskin Conference Center
425 Westwood Plaza
Los Angeles, CA 90095
Phone: 855-522-8252
Fax: 310-206-7122
http://luskinconferencecenter.ucla.edu/
You will need to make your own individual reservations. The rooms are $249.00/night and the cut-off date to be guaranteed this rate is April 3, 2017. We only have 12 rooms available at this guaranteed rate and this is first come first serve. If you call after the 3rd, they may still honor the conference rate and otherwise you will get the best available rate.
To reserve a room, please visit the Luskin Conference Center website, lcc.ucla.edu, or call the reservations team at 855-LCC-UCLA, and use the conference code 170423WE. To reserve online, navigate to lcc.ucla.edu, select "Book a Room;" then select that you have a conference code and that you are attending a conference; then choose your dates and enter the conference code. Valet parking at the Luskin Center is $39.00 and overnight self-parking in Structure 8 is $28.00.
UCLA Guest House. For a less expensive alternative, or if the rooms in the Luskin Center sell out, we recommend the UCLA Guest House.
UCLA Guest House
330 Charles E. Young Drive East
Los Angeles, CA 90095-1466
Tel: 310-825-2923
Fax: 310-825-6108
www.guesthouse.ucla.edu
The rooms in the Guest House range from $209 - $229 per night and they charge a daily parking rate of $12 at the nearest parking structure.
If you are from a UC campus and want to do a recharge for your hotel, the best would be to call the hotel directly.