Description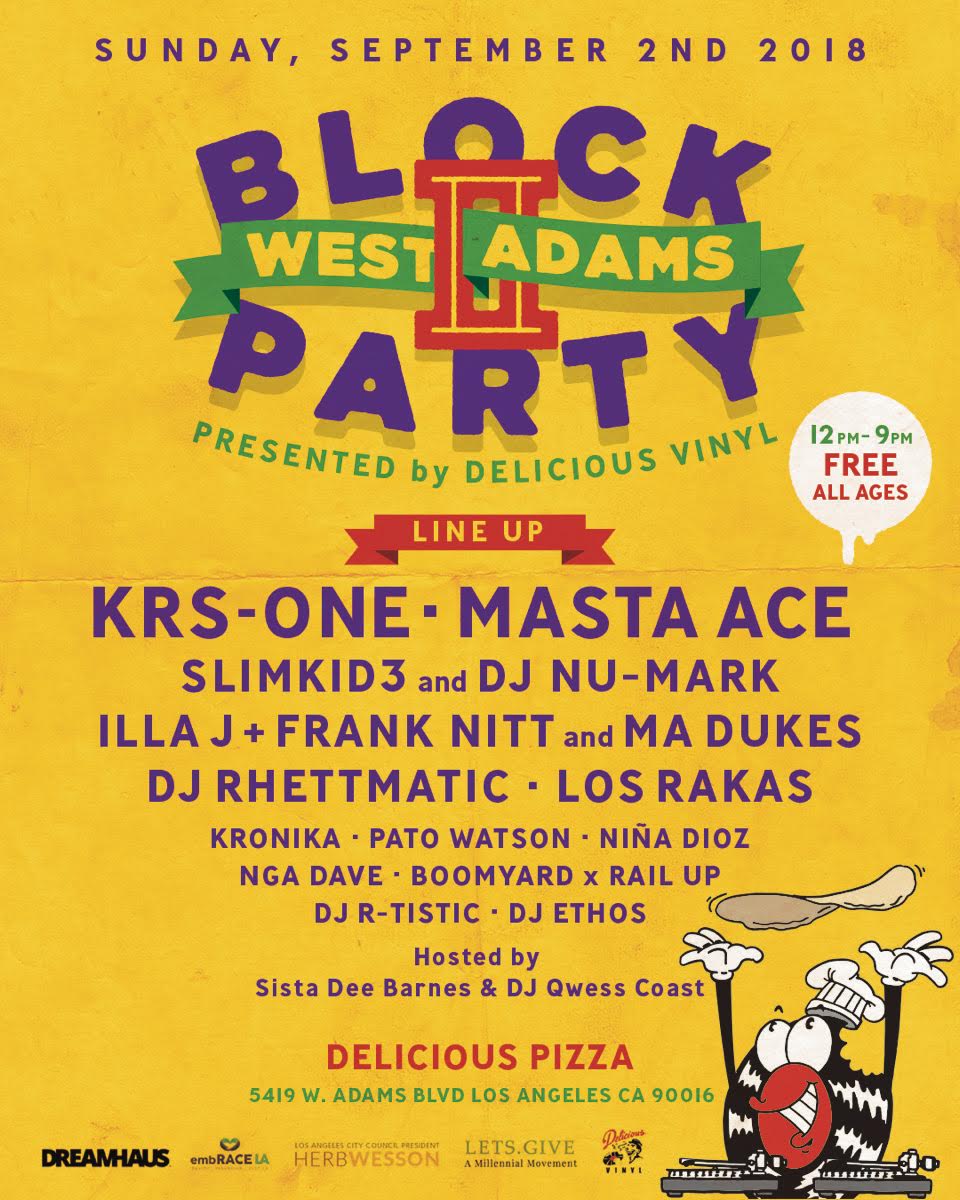 A celebration of music, art and cultural diversity in the city.

Delicious Vinyl is teaming up with Dreamhaus LA & embRACELA to throw their annual community block party at Delicious Pizza (headquarters) on West Adams Sunday, September 2nd 12-9PM.

The free, all-ages event, hosted by Sista Dee Barnes (Queens/NY) and DJ QwessCoast (Inglewood/LA), will feature afro-caribbean funk, soul, hip-hop and a mix of exciting new artists' and DJs. The day will be kicked off with DJ sets by NgaDave (DV Radio/LA), DJ Ethos (Morelia,MX), DJ R-Tistic (Gardena/LA), Kronika (Soulection/LA), Chico Sonido (MX), DJ Rhettmatic (Beat Junkies/LA), Boomyard presents the sounds of Rail Up (Muñeka/ Kelman Duran/ foreigner), plus live performances by Blastmaster & Teacha KRS-One (Bronx/NY), Masta Ace (Brooklyn/NY), Slimkid3 & DJ Nu-Mark (LA), Illa J (Detroit), Frank Nitt (Detroit), Niña Dioz (Monterrey, MX), Los Rakas (Oakland/Panama) & a special appearance by Ma Dukes (Detroit).

There will be plenty of activities for the kids including arts & crafts, a soccer field, face painting and the magnificent "West Adams" castle jumpers.

One of the main attractions of the day will be the Delicious Vinyl Pop-Up shop inside the Infinity Room. Featuring limited edition Delicious Vinyl x Lil Yachty t-shirts and hats, Dilla Donuts and merch, plus Block Party posters designed by local artists Aiseborn, Jacqueline Palafox, "Shirtking" Phade (Bronx/Brooklyn/NY) & Cook (Osaka/Japan).


Volunteers from Los Angeles based non-profits including Dreamhaus LA, Fernando Pullum Community Arts and Lets.Give will be participating throughout the days activities raising awareness for art, music and charity programs in the community.
Food Trucks and Vendors will be plentiful including Delicious Pizza, LocoL, ALTA Adams, Highly Likely, Vee's & a host of other food vendors on the block; the Delicious Vinyl Island sound system witll be in the Beer garden for the 21 + crowd.

"This is a great opportunity for local families, friends and shop owners to come together and celebrate the flavor of West Adams". - Rick Ross - Delicious Vinyl

________________
http://deliciouspizza.com/
http://deliciousvinyl.com/
IG: westadamsblockparty
IG: deliciouspizzahq
IG: deliciousvinyl