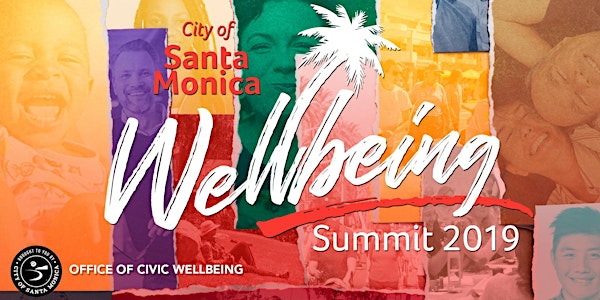 Wellbeing Summit 2019 | City of Santa Monica
Welcome to Registration for the Wellbeing Summit!
When and where
Location
Santa Monica College Center for Media and Design 1660 Stewart St Santa Monica, CA 90405
About this event
Registration closes at 11:59pm on Friday, November 15th. After this time, we welcome all walk-ins on Saturday, November 16. Please plan to arrive 30 minutes prior to the session you'd like to attend. Stop by the Registration Booth to pick your workshops! See you then!
El registro cierra a las 11:59 pm del viernes 15 de noviembre. Después de este tiempo, damos la bienvenida a todos los sin cita el sábado 16 de noviembre. Planee llegar 30 minutos antes de la sesión a la que desea asistir. ¡Pase por el área de registro para elegir sus talleres! ¡Hasta entonces!
-
The Wellbeing Summit is a one-day free and interactive event on November 16th, 2019, to spark conversation and action around community wellbeing. For more on the event, please visit our website.
STEPS TO REGISTER
After you click the green "Register" button above, you will:
1. Pick a Session!
Morning (10AM-12PM)
Midday (12PM-2PM)
Afternoon (2PM-4PM)
2. Provide contact information.
3. Select two workshops to attend per Session. See the list of workshops to choose from below!
REGISTRATION IS IMPORTANT – HERE'S WHY:
Space is limited in the workshops! The Wellbeing Summit is free and all are welcome. And, attendance is based upon first-to-register basis. Registration confirms your space.
Please arrive 30 minutes before your session to check-in.
Workshop details and event schedule are available at: santamonica.gov/wellbeingsummit.
WORKSHOPS
Within each Session - Morning (10AM-12PM), Midday (12PM-2PM), Afternoon (2PM-4PM) - you can select two workshops to attend. You'll sign up for your favorites after you click the green "Register" button above.
There are lots of choices! Review the workshops below, and if you need more detail, see our website.
Alexa, Can You Hear Me? Gender Equality through Design - Caroline Torén, Maia Ferdman, & Rosie's Girl Student Representative
Midday + Afternoon
Be an Upstander: How to Have Brave Conversations. Mike Cortrite and Barrie Levy, PeaceProsLA
Midday
Building Resilience in Communities of Color: Lessons from Virginia Avenue Park's Parent Groups Gloria Garcia, Macrina Garcia, Ebonica Fisher, Ericka Lesley moderated by Irma Carranza Spanish interpretation will be provided
Afternoon
City of Santa Monica & Santa Monica-Malibu Unified School District: A Collective Impact Approach to Service Delivery - Angel Villaseñor & Shuli Lotan
Midday
Civic Love - Learn how YOU can make a change in YOUR community, starting now. - Evan Meyer
Afternoon
Creative Resistance through Printmaking - Joel Garcia - Learn Screenprinting: Create Your Own Custom Tees & Totes
Morning + Midday + Afternoon
Cultural Wellbeing In the Workplace: Why Hope, Trust, and Belonging Matter in the Workplace - Theo Edmonds
Midday + Afternoon
Dance as Community Organizing - CONTRA-TIEMPO
Midday + Afternoon
DIY Human: A Connective Experience That Breaks Down Walls & Builds Empathy - Kathleen Hwang and Elif Candangelenn, Interpretation in Spanish Available
Morning + Midday
Eat your Veggies, Get Good Sleep, How's Your Housing & What Apps Do You Use? - Modern Medicine with Kaiser Permanente & UCLA Health Dr. Michael Rodriguez, Dr. Greg Saccone, Elizabeth Trombley moderated by Dominique DiPrima.
Morning
Everyday Mindfulness: Guided Meditation - Insight LA
Morning
Global Wellbeing from the UK to Bhutan to Latin America: How Countries Across the Globe are Taking Wellbeing Seriously (Panel) with Kinga Tshering, Benilda Batzin Churunel, and Alejandro Adler moderated by Juliana Essen. Interpretation in Spanish Available
Afternoon
Gross National Happiness: How Bhutan Rewrote Their Constitution to Make Happiness The Goal of Government - Kinga Tshering Interpretation in Spanish Available
Midday
Health and Wellness at SMC: How Active Minds is Changing the Conversation about Mental Health - Lisa Golden & Susan Fila
Midday + Afternoon
Hope, Belonging and Trust: Using Spoken Word to Build Culture and Connection -Theo Edmonds
Morning
"I AM NOT SICK, I Don't Need Help!" How to Engage People who Don't Want Help - Dr. Xavier Amador and Gabriela Canedo
Midday
"I AM NOT SICK, I Don't Need Help!" Part 2: Learn the 7 LEAP Tools - Dr Xavier Amador and Gabriela Canedo ** attendees will receive Dr. Xavier Amador's latest book "I'M NOT SICK! I Don't Need Help"
Midday
Jam Session for Changemakers and Community Organizers! Finding and Funding Your Idea for a Wellbeing Microgrant - Juliana Essen with Janeen Jackson and Sofia Ramírez Interpretation in Spanish Available
Midday
Life, Liberty, and the Pursuit of Mapping It - Exploring Santa Monica's People and Places- William Dahlin
Afternoon
Measuring Your Impact on Wellbeing- A Special Session for Non-Governmental Organizations - Anita Chandra
Morning
Mobility Matters: Designing Streets for Kids & Motivating Change in your Community - Beth Karlin & Cynthia Rose
Morning + Midday
Normal Sucks: Stop Trying to Fix People & Start Empowering Them To Succeed - Jonathan Mooney Spanish interpretation will be provided
Morning
Pico Wellbeing Project Phase 2 Teaser- Pico Wellbeing Project Staff Spanish interpretation will be provided
Morning
Preserving Our Diversity: Learn about Santa Monica's Cash Assistance Program for Seniors - Eduardo Lizarraga
Morning
Reflecting on Our Values: How Does Santa Monica's Wellbeing Project Measure Up? - Juliana Essen
Morning
Technology and Wellbeing: How Local Companies are Innovating to Improve Health and Wellness - Gabrielle Corse, Dan Greaney, moderated by Dave Baoicchi
Midday
The eLibrary, Join Us For an Appy Hour! Learn about the library's e-resources and get hands-on experience at our technology "petting zoo." Interactive stations include virtual reality and more. - Santa Monica Public Library Staff Spanish interpretation will be provided
Midday + Afternoon
Walking the Talk: What's Next for Wellbeing? - A Community Conversation with City leaders to Outline Post-Summit Steps: Rick Cole, Gleam Davis, moderated by Alejandro Adler Spanish interpretation will be provided
Afternoon
Wellbeing Imaginarium: An Interactive Visioning Experience - Create Your Own City of Wellbeing - Justin Yoffe & Team
Morning + Midday + Afternoon
Wellbeing: What It Is, What It Isn't & Why It Matters. Anita Chandra, Carol Graham & Neal Halfon moderated by Alejandro Adler Spanish interpretation will be provided
Morning
Where Wellbeing Begins: Santa Monica's Support for Early Learning
Morning
Youth Track: Geared Towards Ages 12-20
My Anxiety Story - Kasai Marsh & Jasmine Mercado
Afternoon
Mondays Are Awesome! - Kasai Marsh
Morning
Switching Roles - Kasai Marsh
Midday
CONTACT + FOLLOW US
CITY OF SANTA MONICA | OFFICE OF CIVIC WELLBEING
Email us: wellbeing@smgov.net
Follow us on Facebook | @SantaMonicaWellbeing
Follow us on Twitter & Instagram | @cityofwellbeing
Use Hashtags | #wellbeingsummit #samowellbeing