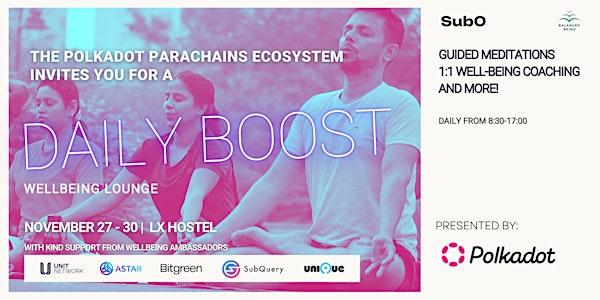 Well-Being Lounge at Sub0 hosted by Polkadot Parachains
Join us for your daily boost of well-being at LX Hostel well-being lounge with Unit Network, Bitgreen, SubQuery Network & Astar Network.
When and where
Location
LX Hostel 103 Rua Rodrigues de Faria 1300-501 Lisboa Portugal
About this event
Feel like you want a break from all the amazing networking and learning at Sub0? Then it's time to head over to the Well-being lounge next door.
At the Well-Being lounge, you'll find activities alongside Sub0, Polkadot's leading DevCon in Lisbon hosted by Unit Network, Astar Network, Bitgreen, SubQuery, Unique Network.
Activities range from
guided meditation sessions
1:1 coaching (on demand)
Reiki massages
a bed for a quick nap (1st come 1st serve)
co-working in a calm space (1st come 1st serve)
SignUp here: (limited availability)
www.bit.ly/sub0wellbeing
Come, relax, recharge so you can make the best use of your time at Sub0! Have a cup of tea, enjoy your breathing, enjoy the wonderful community.
This event is hosted by Unit Network, together with other Polkadot Ecosystem partners Bitgreen, SubQuery, Astar Network.
----
Daily Schedule for Well-Being Lounge: https://docs.google.com/document/d/1yhg45C6UNJWky7xa3YD0vURJRgtSTsNt8OfF7Fh4dUA/edit?usp=sharing
See the Sub0 Website for full agenda & side events: https://sub0.polkadot.network/program/
Join the Lisbon Community Telegram Chat: https://t.me/+jpFHVKf09DFlNmVk
----
Learn more about the well-being ambassadors in the Polkadot Ecosystem:
About Unit Network: Developed on the Polkadot network, Unit Network is a most user-friendly and accessible platform that makes tokenisation easy for everyone from all backgrounds.
About Bitgreen: Bitgreen is an open and permissionless blockchain built to meet the needs of NGOs, corporate ESG groups, and purpose-driven innovation in Web3.
About Astar Network: Astar is a multi-chain smart contract platform that supports multiple blockchains and virtual machines
About SubQuery Network: SubQuery is an Open, Flexible, Fast and Universal data indexing framework for web3. Our mission is to help developers create the decentralised products of the future.
About Polkadot:
Polkadot is a blockchain platform and cryptocurrency. It is designed to allow blockchains to exchange messages and perform transactions with each other without a trusted third-party.
About Balanced Being:
Balanced Being is a cooperative that offers high quality trainings for individuals and organizations to tap into their core potentiality through body, mind, and heart.