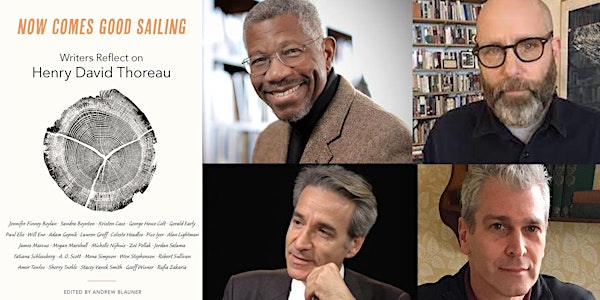 WEEKNIGHTS AT THE WAGNER: Reflections on Henry David Thoreau
A FREE conversation with writers Gerald Early, James Marcus and Robert Sullivan about how Thoreau has influenced and inspired them.
Refund Policy
Contact the organizer to request a refund.
About this event
WEEKNIGHTS AT THE WAGNER: Reflections on Henry David Thoreau an online conversation with Gerald Early, James Marcus and Robert Sullivan
The American naturalist, philosopher and writer Henry David Thoreau (1817-1862) is one of the most intriguing figures of 19th century America – and one of the most written about. His retreat to Walden Pond in Massachusetts, where he lived from 1845 to 1847, resulted in his most famous work, Walden: or Life in the Woods, a deeply introspective reflection on living simply and in harmony with nature. The experience also produced another enduring work, Civil Disobedience, his essay on unjust forms of authority and a call to social action. A critic of materialism and technology in his time, Thoreau produced more than 20 volumes of articles, essays and poetry. His writings on natural history and philosophy anticipated methods later developed in ecology and environmental studies, and he is considered a foundational figure in the modern environmental movement. He was also a staunch abolitionist and advocate for the rights of individuals against government control. In Now Comes Good Sailing, a new volume of essays, twenty-seven leading writers explore how Thoreau has influenced and inspired them and why his work has particular resonance in this time of climate, technological and racial reckoning.
Three of the contributors—Gerald Early, James Marcus and Robert Sullivan — will join us for a wide-ranging conversation that looks at Thoreau and his work through different lenses. The conversation will be moderated by the book's editor Andrew Blauner.
About the Speakers
Gerald Early is an essayist, cultural critic, and professor of English, African, and African American Studies and American Culture Studies at Washington University in St. Louis. He is the author of several books, including The Culture of Bruising, which won the 1994 National Book Critics Circle Award for criticism.
James Marcus is the author of Amazonia: Five Years at the Epi-center of the Dot-Com Juggernaut and seven translations from the Italian, including Giacomo Casanova's The Duel. He is the former editor of Harper's Magazine and has contributed to the New Yorker, the Atlantic, Harper's, the American Scholar, VQR, the Guardian, the Nation, and Best American Essays. He is currently at work on his next book, Glad to the Brink of Fear: A Portrait of Emerson in Fifteen Installments.
Robert Sullivan is the author of eight books, including Rats, The Meadowlands, and The Thoreau You Don't Know. A contributing editor at A Public Space, he lives in Philadelphia and teaches at Middlebury College's Bread Loaf School of English.
Andrew Blauner is a literary agent and the editor of seven previous anthologies, including Coach: 25 Writers Reflect on People Who Made a Difference, The Peanuts Papers: Writers and Cartoonists on Charlie Brown, Snoopy & the Gang, and the Meaning of Life, and In Their Lives: Great Writers on Great Beatles Songs.
Registration is required. The Zoom link will be sent to attendees in a confirmation email. This event will be recorded.
Main image: Book Cover image from Princeton University Press; (top left to right) Gerald Early, Robert Sullivan; (bottom left to right) Andrew Blauner, James Marcus.