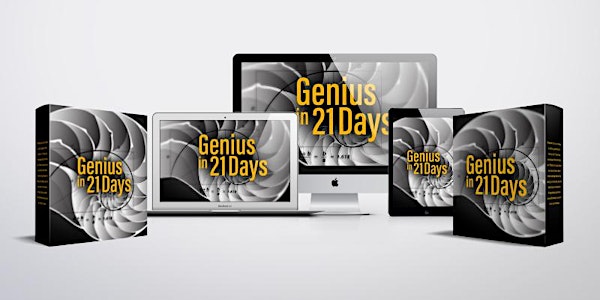 Weekly Introduction: Genius in 21 Days
Learn Faster and Retain Information Forever Without Stress and UNLEASH Your Superhuman Brain
By Cosimo and Stephanie - Best Brain Training Instructors in Denver
Date and time
Thursday, June 1 · 5 - 6pm PDT
About this event
I can teach you the techniques on how to:
Retain and recall information
Learn faster
Read faster
How to organize based on your mind's characteristics
Mind Maps
The most advanced memory techniques and fun, practical exercises that will give you results in matter of minutes
Improve Focus and Concentration
How to retain from online courses without losing focus
How long-term memory works, and how you can preserve and retain memories forever
We start off with our Be A Genius Program where you are going to learn:
Learning Methods
a. Learn why repetition and other "memory techniques" don't work and how individuals can drastically reduce stress and unlock their learning potential by understanding their own cognitive styles.
Reading Techniques
a. Cosimo reveals the reading techniques that enabled him to read 44 books in 12 days, including how to destroy distractions forever.
Comprehension Techniques
a. How underlining and highlighting or any similar methods inhibit comprehension and encourages students to focus on understanding keywords concepts instead.
Remembering Techniques
a. Understand how to use the characteristics of memory and harness the power of visual, emotional, and associative details for better retention.
Motivation Techniques
a. The way you perceive your own abilities impacts your motivation
b. A Practical exercise designed to stop overthinking and encourage action.
Having a Method
a. Gain confidence by finding and utilizing the perfect method for your mind.
Memorizing
a. Illustrating how the perfect method enables memorization without repetition with a powerful exercise thank to Stephanie.
How To Fully Unblock Yourself
a. Understand how studying with a method produces confidence and eases overwhelming stresses due to lack of motivation or time constraints.
Understanding and Managing Stress
a. Cosimo points out the difference between stress and fear and shares how to distinguish between the three types of stress and improve your performance by keeping stress at an adequate level.2
b. What's the difference between External Locus and Internal Locus? What's their power when we shift from one to the other?
c. Cosimo provides unique techniques to manage stress and stop anxiety.