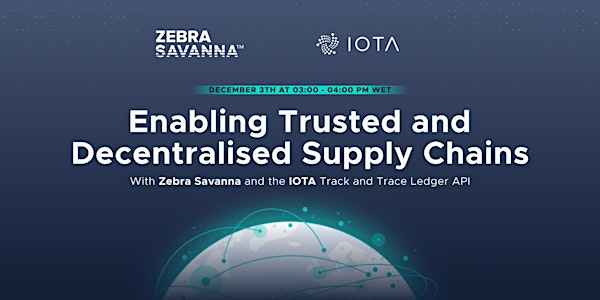 Webinar - Zebra Savanna and the IOTA Track and Trace Ledger API
Enabling Trusted and Decentralised Supply Chains with Zebra Savanna and the IOTA Track and Trace Ledger API
About this event
Learn how to easy combine barcodes/RFID technology with blockchain | DLT
Automatic Physical Item Identification is one important aspect when it comes to decentralized trade and supply chains leveraging Distributed Ledger Technologies (DLT) (a.k.a. blockchains). A distributed system can establish trust and collaboration between supply chain actors as no central and coordinating actor is needed, but all actors can exercise control of their own information and how it is shared - and all actors can trust data to originate from the source and that it hasn't been manipulated. Now we are adding more capabilities to automate supply chain ecosystems with data capture technologies such as barcodes, RFID etc.
Zebra and the IOTA Foundation have been working on the integration between automatic identification technologies (AIDC) and the IOTA Ledger (the Tangle) through simple but yet powerful REST APIs. A new API, the Track and Trace Ledger API, allows to automatically publish and consume scan (barcode) or read (RFID) transactions (possibly originated from Zebra devices) to an IOTA Ledger (the Tangle).
Zebra Technologies and the IOTA Foundation are offering the Track and Trace Ledger API as a free of charge service for developers in a sandbox-preview version mode through the Zebra Savanna Data Services platform.
In this event, IOTA and Zebra will go through our work together, demonstrate how the Track & Trace Ledger API works and how it enables supply chains to be more trusted, visible and transparent.
Sign up now & see you there!
We will send the link to join the webinar directly to your email some days before the event.
For any questions or comments, and to stay up to date on our current activity, follow us on:
LinkedIn
Twitter
Discord
Instagram