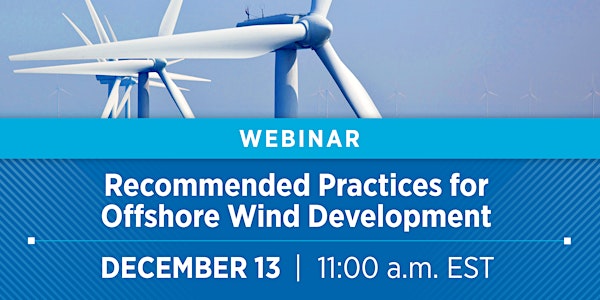 Webinar: Recommended Practices for Offshore Wind Development
Learn about the emerging U.S. offshore wind compliance recommended practices and how they impact your business
About this event
It is critical that companies and organizations working in the U.S. offshore wind market understand the developing U.S. offshore wind compliance standards. Join the industry leaders of the National Offshore Wind Standards Initiative on Tuesday, December 13 at 11:00 a.m. EST, for a one-hour webinar to learn about the developing national offshore wind recommend practices and the objectives of the initiative. There will also be an overview of the five guidance documents and their expected release dates. The five offshore wind recommended practice documents are:
1. Offshore Compliance Recommended Practices (OCRP), Edition 2 (Approved)
2. U.S. Floating Wind Systems Recommended Practices
3. U.S. Offshore Wind Metocean Conditions Characterization
4. U.S. Recommended Practices for Geotechnical and Geophysical Investigations and Design
5. U.S. Recommended Practices for Submarine Cables
These guidance documents will be ANSI approve, allowing the regulators to use them to review projects and clarify regulatory compliance. The documents consider the unique offshore conditions on the U.S. outer continental shelf (OCS) and state waterways (e.g., Great Lakes). They provide guidance for offshore wind projects, covering a range of project implementation activities, including project design, construction and deployment practices, operation, safety, and decommissioning, while anticipating the new and evolving nature of offshore wind technology.
The webinar is free, but advance registration is required.
About the U.S. Offshore Wind Recommended Practices
The development of the U.S. offshore wind recommended practices and accompanying guidance documents is a collaborative effort by the following organizations: Department of Energy, National Renewable Energy Laboratory, Bureau of Ocean Energy Management, Bureau of Safety and Environmental Enforcement, Business Network for Offshore Wind, and American Clean Power Association (ACP).
The industry-led, consensus-based U.S. offshore wind recommended practice documents have been developed under strict procedures established by the American National Standards Institute (ANSI) and ACP, the ANSI-Accredited Wind Energy Standards Developer, including provisions for demonstrating openness, balance, lack of dominance, due process, and consensus. The importance of these documents stems from their conformance with the ACP/ANSI's normative policies and administrative procedures, which gives them the stature necessary to be recognized by U.S. offshore wind regulators.
If you would like more information, please contact Julia Gerringer at the Business Network for Offshore Wind: Julia@offshorewindus.org.