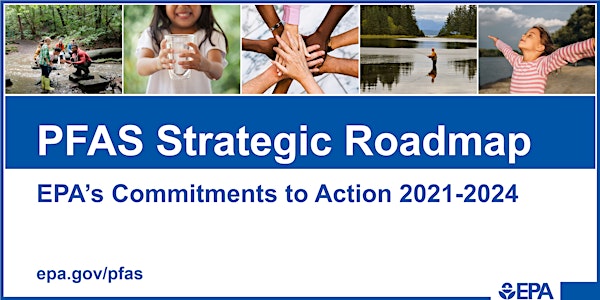 Webinar: PFAS Strategic Roadmap – EPA's Commitments to Action: 2021-2024
Join EPA leaders to learn about EPA's PFAS Strategic Roadmap and important actions to protect public health and the environment.
About this event
Note: EPA will use your registration information solely for this event. We will not share your information with any third party.
This event will be captioned. Please indicate during registration if you are a person with a disability needing other reasonable accommodations, or a person with limited English proficiency needing language assistance services, in order to meaningfully participate in this meeting.
EPA released its PFAS Strategic Roadmap on October 18, 2021. The roadmap lays out EPA's whole-of-agency approach to tackling PFAS and set timelines by which the Agency plans to take concrete actions during the first term of the Biden-Harris Administration. The Roadmap fills a critical gap in federal leadership, provides a basic floor of federal protection, and supports states' ongoing efforts to address PFAS.
Join members of EPA's PFAS Council – senior policy and technical leaders from across the Agency – to learn more about the actions EPA plans to take in the coming months and years to protect public health and the environment from the impacts of PFAS.
This is the first of two public webinars that provide an opportunity for interested stakeholders to hear directly from EPA experts and ask questions about the Agency's research, upcoming actions, and timelines to achieve them.
Read the Roadmap and learn more about recent and upcoming EPA work on PFAS.
The second webinar on November 2, 2021 will provide an additional opportunity for members of the public to learn more about EPA's PFAS Strategic Roadmap. Register for the November 2, 2021 event here.
--------------------------------------------------------------
Nota: La EPA utilizará la información que usted indique al inscribirse exclusivamente para este evento. No compartiremos su información con ningún tercero.
Este evento contará con subtítulos. Indique durante la inscripción si usted es una persona discapacitada que necesita otras adaptaciones razonables, o una persona con dominio limitado del inglés que necesita servicios de asistencia con el idioma, a fin de participar de manera significativa en esta reunión.
La EPA publicó su Mapa estratégico sobre PFAS el 18 de octubre de 2021. El mapa establece la estrategia de la EPA en toda la agencia para abordar las sustancias per y polifluoroalquiladas (PFAS) y determina plazos según los cuales la Agencia planea tomar medidas concretas durante el primer periodo de la Administración Biden-Harris. El mapa responde ante la brecha crítica en el liderazgo federal, aporta un nivel mínimo de protección federal y apoya la labor constante de los estados para abordar las PFAS.
Únase a los miembros del Consejo sobre PFAS de la EPA – líderes encargados de dictar políticas y líderes técnicos de toda la Agencia – para conocer más detalles sobre las medidas que planea tomar la EPA en los meses y años futuros a fin de proteger la salud pública y el medioambiente contra los efectos de las PFAS.
Este el primero de dos seminarios web públicos que dan una oportunidad para los interesados de escuchar directamente a los expertos de la EPA y hacer preguntas acerca de la investigación de la Agencia, sus medidas futuras y plazos para lograrlas.
Lea el mapa y conozca más detalles sobre trabajo reciente y futuro de la EPA sobre las PFAS (en inglés).
El segundo seminario web el 2 de noviembre de 2021 brindará una oportunidad adicional para que el público conozca más sobre el mapa estratégico sobre PFAS de la EPA. Inscríbase aquí para el evento del 2 de noviembre de 2021.