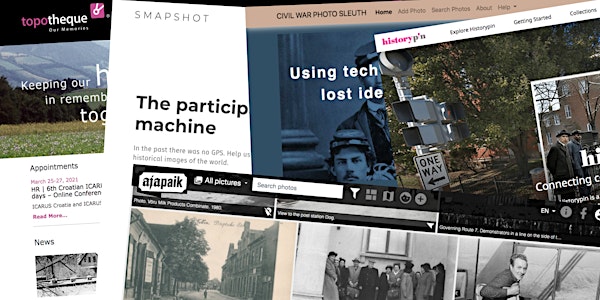 Webinar on crowdsourcing platforms for historic images
Webinar on crowdsourcing platforms for historic images – Topothek, Smapshot, Civil War Photo Sleuth, Historypin & Ajapaik
Refund Policy
Contact the organizer to request a refund.
About this event
There are several platforms/apps dedicated to enriching the metadata of historic images – geotagging pictures, identifying persons, rephotography of historic images etc.
Ajapaik is celebrating its 10th anniversary on February 27 and on that occasion a webinar brings together 5 such platforms – Topothek, Smapshot, Civil War Photo Sleuth, Historypin and Ajapaik.
The presentations start at full hour from 14 onwards with max 40 minutes for presentations, then Q&A and then a small break before next session.
Schedule (UTC +2, Tallinn)
13:50 intro by Vahur Puik
14:00 Topothek by Alexander Schatek. Moderator Sandra Fauconnier (ex Wikimedia Foundation)
15:00 Smapshot by Stéphane Lecorney. Moderator Susanna Ånäs (Open Knowledge Finland, Wikidocumentaries)
16:00 Civil War Photo Sleuth by Vikram Mohanty. Moderator Peter Krogh (The DAM book, The Tandem Vault)
17:00 Historypin by Jon Voss. Moderator James Morley (A Street Near You, Postcodepast)
18:00 Ajapaik by Vahur Puik. Moderator Mia Ridge (British Library)
Instructions about commenting the stream on Facebook.