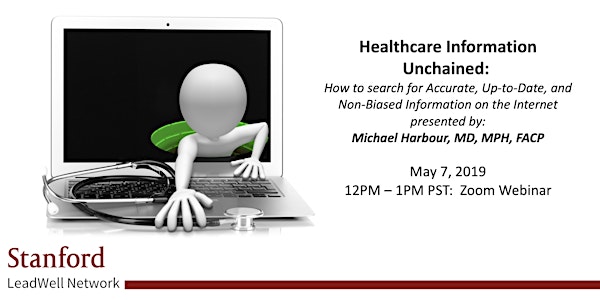 WEBINAR: Healthcare Information Unchained: How to search for Accurate, Up-...
Refund policy
Refunds up to 1 day before event
Description
Searching the internet for health and wellness related topics is the second most common search activity after online shopping. Health-related information and products are found everywhere. Using evidence-based and trusted sources for information is essential to prevent misinformation and even harm. In this webinar, Dr. Harbour will address how to research health and wellness information on the internet for accuracy, relevance and bias. He will also share how to evaluate web-based health and wellness content providers for integration into worksite wellness programs.
Dr. Michael Harbour is Chief Medical Officer of ConnectWell, a public-private partnership with the UC Berkeley School of Public Health. ConnectWell is a leading-edge provider of digital health and wellness content that is academically sourced, evidence-based and designed to engage patients, members, and employees in their health and well-being.
Dr. Harbour is a physician, clinical researcher and public health professional with expertise in internal medicine, infectious diseases including HIV/AIDS, hepatitis, sexually transmitted infections, and maternal-fetal health. Dr. Harbour began his clinical medical career as a research fellow at the NIH after which he served on the faculty at both Harvard Medical School and Stanford University School of Medicine where he practiced in the Division of Infectious Diseases. He has worked in Tanzania and lectured throughout the US and internationally on HIV/AIDS, infectious diseases, and medication adherence. Michael worked at Merck & Company where he assisted in HIV and HCV medicine development. While at Merck, he worked with the WHO in Geneva on maternal health issues and was an invited guest of President Obama to the White House for World AIDS Day. He also received an Achievement Award from AIDS Coalition of Silicon Valley.
Dr. Harbour received his MD from Georgetown University School of Medicine where he was a recipient of the Joseph and Rose Kennedy Scholarship for Bioethics at the Kennedy Institute of Ethics at Georgetown University. He earned a Master's in Public Health from the University of California Berkeley with an emphasis in population health and public policy.