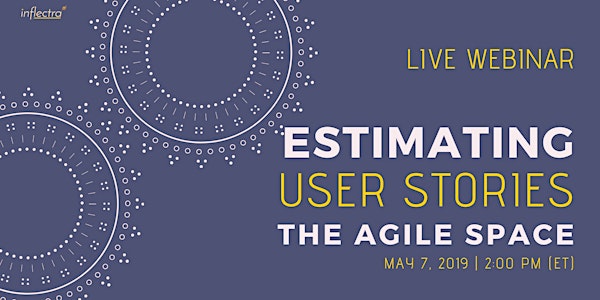 Webinar: Estimating User Stories in the Agile Space
Description
Inflectra and #SriramRajagopalan invite you to a free webinar: Estimating User Stories in the Agile Space. This webinar is the 2nd webinar in Tier 2 Agile Webinar Series called: Deeper Dive Into Agile: Practical Tips On Managing Agile Projects.
---
Save your spot today!
---
WHY THIS WEBINAR:
Even with the just-enough planning mindset, agile initiatives require estimation work so that the iteration and release planning can happen. The backlog has to be at a state where the estimation can be done. The top-down and bottom-up approaches take a different form in the agile approach with the introduction of story points. This webinar will answer some of these approaches and questions so that you can apply the estimation techniques.
The webinar will discuss:
Types of estimations
Techniques used in agile estimation
Responsibilities in backlog grooming versus iteration planning
A brief intro to some tools or games
Thoughts behind mixed methodologies
WEBINAR DETAILS:
Date & Time: Tuesday, May 7th, @2pm EDT
Dial-in number (US): (605) 472-5478
Access code: 140875#
International dial-in numbers: https://fccdl.in/i/agile2_wbnr_2
Online meeting ID: agile2_wbnr_2
Join the online meeting: https://join.freeconferencecall.com/agile2_wbnr_2
PARTICIPANT PROFILE:
This course is for anyone aspiring to enter or excel in the following roles:
Project Managers & Product Managers
Business Analysts & Software Architects
Team Leaders
Developers, Programmers, & Testers
Students from Management, Leadership, Engineering, and Digital Media.
WEBINAR PRE-REQUISITES:
The webinar is free and there are no pre-requisites for attending it.
If you attended Inflectra's introductory webinar series: Journey Into Agile With Inflectra, you will find that Tier 2 webinars expand on, and compliment the topics covered previously.
WEBINAR INSTRUCTOR:
Dr. Sriram Rajagopalan is a project management guru with extensive software development and project management experience in many industries. He won prestigious recognition from PMI with the Eric Jennet project management excellence award in 2017. He holds a BE in Electronics and Communication Engineering from the University of Madras in India; MS in Computer Engineering from Wayne State University and MBA in Management from Concordia University. His PhD was in Organization and Management from Capella University. Dr. Rajagopalan possesses many professional certifications in PfMP, PgMP, PMP, PMI-ACP, PMI-SP, PMI-RMP, CSP, CSPO, CSD, CSM, ACC, IT Project+, Six Sigma, SCM, SCPO, SCD, SAMC, SCT, and CSOXP.
---
Can't attend? Register anyway and we will send you the recording after the webinar.

You can always view our webinars on youtube.
#teamInflectra