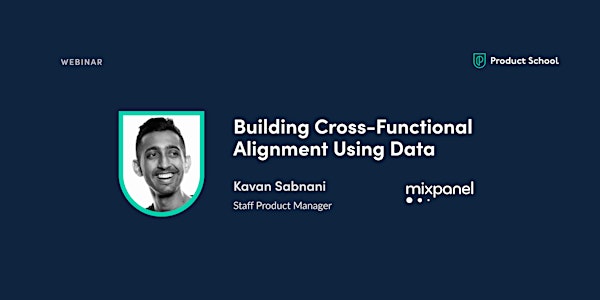 Webinar: Building Cross-Functional Alignment Using Data by Mixpanel
Product School hosts free daily Product Management events with top professionals who are there to help you level up your career!
About this event
DISCLAIMER: Register here to watch the stream or access the replay
As a Product Leader, you're tasked with setting the product vision and establishing the strategy to achieve it. In practice, a tactical component of this is setting OKRs periodically for your team. And when it comes time to execute, your instinct may be to ruthlessly prioritize to ensure engineering is working on the most important thing. (Low effort, high impact!) But an often untapped resource is your cross-functional partners. In this session, we'll explore tactics, such as shared OKRs, to build alignment with cross-functional collaborators to drive product success.
Meet the Speaker: Kavan Sabnani

Kavan is a Staff Product Manager at Mixpanel, working on products and features to help companies measure what matters and build better with data.
The content of this event is for educational purposes only and does not include any specific facts of the presenter's current or previous company. The opinions expressed in this event are solely those of the presenter based on personal experiences and do not reflect those of the company the presenter works for.
Get the FREE Product Book here and check out our curated list of free Product Management resources here

Product School is the global leader in Product Management training with a community of over one million product professionals. Our certifications are the most industry-recognized credentials by employers hiring product managers. All of our instructors are senior-level Product Managers working at top Silicon Valley companies including Google, Facebook, Netflix, Airbnb, PayPal, Uber, and Amazon.
Disclaimer: by registering for this event I agree to receive email communications from Product School and all sponsor brands.