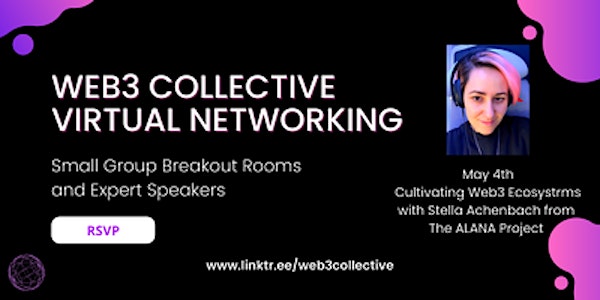 Web3 Collective Virtual Networking
The virtual gathering spot for Web3 Professionals. Network with founders, experts, and community leaders. Grow your business, make friends.
Date and time
Thursday, June 1 · 1 - 2pm PDT
About this event
Build relationships with other web3 business owners and learn from industry experts about emerging trends
This event is a video-on event to join a community and network virtually in small group breakout rooms on Zoom.
Get to know other professionals in the web3 space in order to collaborate, close business, form partnerships, and get to know each other.
Every meeting will have an Expert Speaker who will give an educational presentation designed to improve your ability to grow your business.
Learn more about Web3 Collective and connect with us on social media at https://linktr.ee/web3collective ⬅️ 🔗
Format of event
🎤 5 Minutes of Introductions and welcome - As we wait for everyone to join we will introduce the Web3 Collective and give you the tools to have a successful networking event
📚 15 Minutes of Expert Presentation - Learning from the mistakes, iterations, and successes of others
🤝 30 Minutes of Networking in small groups - get placed into small groups and meet people to follow up with after the call
How To Grow Web3 Communities & Ecosystems
May 4th Expert Stella Achenbach
Who this event is for:
Web3 Founders
Technology Experts
Community Leaders
Artists
Developers
Investors
About Web3 Collective - Your Hosts For This Event
There is a problem with many web3 communities - they do not create meaningful relationships or provide business growth opportunities. Web3 Collective started when several community leaders came together to solve this problem.
We are bringing together separate web3 communities from around the world to form relationships through authentic networking. The best parts of web3 collaboration and enthusiasm mixed with effective business growth networking methods.
Our events are focused on creating impactful business relationships. After a quick presentation from an Expert Speaker we go into breakout rooms that get straight to the point. "What do you do" "Who is a valuable introduction for you" "Who is a good partner for you" are questions that we cover intentionally during rounds of breakout rooms, standard is to have 3 rounds of breakout rooms each with 6-8 attendees in each room.
Sponsored by Cryptan Labs
Web3 Collective is an organization that believes collaboration is the best way to build. We are grateful to our co-hosts for working with us to build this community!
Want to become a cohost? Reach out and let us know.
Community Values
Adding Value - time is valuable, we'll leave every interaction with a connection and a lesson to grow your business and your abilities
Helping Each Other - you must give before you can receive. We help each other out wherever possible. Hands up instead of hands out
Inclusivity - while our content is geared towards business owners and investors, the door is always open and we are welcoming of everyone that joins us
Transparency - we are here to collaborate first, monetize second, and be authentic always. We hold our members to the same standard
About the organizer
Cryptan Labs is an emerging tech incubator specializing in blockchain, AI, ecommerce, and transformative technologies. Through our Accelerator Program we incubate early stage companies by connecting them with advisors and working through custom-made coursework. For global brands and businesses looking for high quality service providers we provide development, marketing, and advisory services to help them build and go to market quickly.