WEB CLASS: Holistic Immunity: Players, Pathologies & Practice, with Betsy M...
Description
The immune system is a complex entity whose functioning and vital force is essential to our health and survival. Join clinical herbalist & nutritionist Betsy Miller for a holistic approach to understanding the immune system, its key players and how it communicates with the other systems in our body. We will learn about common challenges the immune system faces, and how to use herbs and foods to address those challenges and support our immune system's optimal functioning.
Class Features:
- Easy to understand anatomy and physiology of the immune system
- Overview of signs & symptoms of acute and chronic immune system challenges
- Comprehensive understanding of how foods and herbs affect immune system functioning
Class Benefits:
- Gaining the ability to recognize imbalances in the immune system
- Basic skills for using herbs and food to support the immune health of yourself & your family
- Recipes & tasting!!
Students will receive an email with the webinar registration link 30 minutes before class begins.
Please note- this is an online class and is NOT taking place at the shop.

---
Betsy has always been drawn to the healing arts and the natural world. She began her self-study of herbal medicine in 2001, reading anything and everything she could on the subject of plant healing, and taking classes wherever she could find them. Drawn by her desire to be closer to nature, she attended the University of Vermont and completed her undergraduate studies in Environmental Science and Ecological Agriculture, focusing on forest gardening with wild edibles and medicinals. During this time she also completed her 200 hour training in Vajra yoga, and taught for several years in the Burlington area. Desiring to pursue her study of herbal medicine, Betsy received her Masters of Science in Medical Herbalism from the Maryland University of Integrative Health. She currently practicing as a clinical herbalist, licensed nutritionist and Healing Touch practitioner in the Washington D.C. area. She is focusing her practice on supporting fertility and reproductive health, immune system health and digestive health.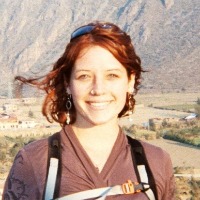 Save
Save
Save
Save