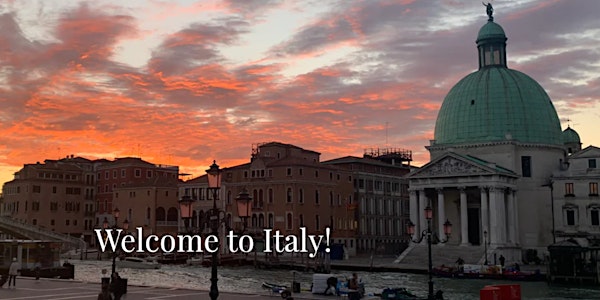 "Wealthy Author Event in Rome, Venice & Florence, Italy"
Learning how to have an EXTREME LUXURY UPLEVEL in EVERY area of your life. Your luxury uplevel begins HERE...
Date and time
July 9 · 7pm - July 15 · 12pm CEST
Location
Rome, Venice & Florence, Italy Rome 00187 Vatican Holy See (Vatican City State)
About this event
5 days 17 hours

Mobile eTicket
Your luxury uplevel begins HERE...
Imagine yourself at Vatican City & St. Peter's Square in Rome, then traversing to Venice, land of water, then on to Florence, the romantic heart of Italy, dining on delicious and authentic Italian pastries and cuisine with amazing people all while learning how to have an EXTREME LUXURY UPLEVEL in EVERY area of your life.
JUST SAY YES TO YOUR ELEVATION IN:
Rome, Venice & Florence, Italy
July 9-15, 2023
HERE'S WHAT WE'RE UP TO AT THE
'WEALTHY AUTHOR' Event in ITALY!
Italy is full of wonder, from the Pantheon, Vatican and Colosseum in Rome, to the canals of Venice to the verdant hills of Florence, Italy is a Soul Excursion you get to immerse yourself in with the fam!
Welcome to your WEALTH as an author. The Wealthy Author workshop on this Soul Excursion gives you the strategies, insights, coaching and secrets to sell thousands of copies of your books and create FOREVER ROYALTIES.
HOW?
THAT'S WHAT WE UNFOLD AT THIS EVENT...
OUR ACTIVITIES IN ITALY
Here's what we'll be up to for 7 glorious days:
On Sunday, July 9 2023 at 7 PM we'll meet for our ALL WHITE WELCOME RECEPTION in Rome, Italy!
This is where we meet and greet each other, set intentions for the week, review our agenda of activities (with pick up times and locations) and engage in our first session for your LUXURY UPLEVEL in Italy!
The ALL WHITE WELCOME RECEPTION is your welcome and orientation to an amazing 7 days in italy. We start with a meditation and end with hugs! The best part of Soul Excursions is YOU!
After our all-white welcome reception, connect with new friends over dinner.
(This gorgeous pic was snapped at the "VIP Party at the Bitcoin Event")
This Event Begins on Sunday, July 9, 2023 @7 PM & Ends on Saturday, July 15, 2023 @12 Noon & Covers 3 Locations!
Rome: We start in Rome on Sunday, July 9th at 7 PM
We start off on Sunday evening at 7 PM in Rome at our All White Welcome Reception! We'll spend 2 tantalizing days here in Rome, with an excursion to the Vatican & St. Peter's Basilica.
You'll get to cross the international border to Vatican City (yes, Vatican City is its own territory) and tour St. Peter's Basilica for fascinating origins of the Christian faith and more wonders.
Your registration includes an excursion to Vatican City and St. Peter's Basilica with a knowledgeble tour guide.
Venice: We travel to Venice on Tuesday, July 11, 2023 at 12 Noon
After having a spiritual and religious introduction to Italy, we head off via train to the beautiful water city of Venice!
We'll be in this iconic city for one night exploring the canals and waterways and delicious cuisine that is Venice.
Note: the train from Rome to Venice is approximately $90 USD (depending upon what class of seat you select). The ride is about 4 hours, FYI..
Florence: We travel to Florence on Wednesday, July 12, 2023 @6 PM
After experiencing the water city of Venice, we traverse aboard a high speed train to Florence, the heart of Tuscany, for amazing food, nature, world-class wine, and of course, more magnificent Italian cuisine with amazing people and our LUXURY UPLEVEL EXPERIENCE.
Note: the train from Venice to Florence is approximately $22 USD (depending upon what class of seat you select). The ride is about 2 hours, FYI. You can take a train from Florence to Rome to catch your flight home!
When You Travel With Us
You have COMMUNITY of like-minded soul ascenders, a seasoned SHERPA who's already gone where you're going and TRAINING on activating your GOD POWERS.
The Juicy Details For Rome, Venice & Florence, Italy
HERE ARE THE PARTICULARS FOR THIS EXCURSION:
Accommodations
Accommodations are not included in your registration. Whether you're looking for a 5-Star experience, or an inexpensive stay, you'll find what you're looking for with our recommendations.
When you register, you'll receive an email that gives you details of the recommended accommodations for Rome, Venice & Florence, Italy.
Of course, you're free to book accommodations anywhere you desire. If you're a solo traveler and would like a roommate, notify us by email after you register and we'll give you next steps to secure a roommate.
Arrival & Departure
ARRIVE ON OR BEFORE SUNDAY, JULY 9, 2023 AT 4 PM to check into your accommodations and be EARLY to the ALL WHITE WELCOME RECEPTION that evening at 7 PM in Rome, Italy.
It is critically important that you arrive at the ALL WHITE WELCOME RECEPTION early (by 6:45 PM). We start PROMPTLY at 7 PM. You'll receive all pertinent details for our 7 days together at this orientation and welcome to Italy.
DEPART AFTER 5 PM ON SATURDAY, JULY 15 from ROME, ITALY to allow time to travel to the airport and to clear customs. Be prepared for a glorious 7 days with the family!
Activities
Your registration for this excursion includes these activities:
Tour of Vatican City & St. Peter's Basilica, an iconic and legendary destination for spiritual and religous seekers.
A Soul Excursions Guide, who knows the terrain and will navigate it with ease for everyone on this Soul Excursion.
Workshop & Spiritual Practice with KAISI, Rev. Valerie Love will be leading us deep within with spiritual practices that soar the soul and open infinite possibilities.
What to Bring & Wear
Comfy clothes, comfy shoes, hats and items to shade yourself from the sun, and of course, WALKING SHOES for Italy! We'll be doing quite a bit of walking in Rome, so your exercise regimen will pay off, as well as your yoga practice!
It will be HOT and SUNNY! Remember your sunshades, large hats, sunscreen and/or whatever keeps you comfy and cool in HOT WEATHER.
Always keep yourself hydrated and breathing deep as you take on walking and movement.
Of course, bring your grimoire, journal and/or notebooks for our intensive workshop.
REGISTER NOW FOR ROME, VENICE & FLORENCE, ITALY!
You are loved & appreciated and we look deliciously forward to meeting you in person!