WE HAVE IRÉ  - a new multidisciplinary theater piece by Paul S. Flores
WE HAVE IRÉ - a new piece by Paul S. Flores exploring the lives of Cuban artists, immigration and Afro-Cuban themes in 80 minutes.
About this Event
Experience a new multidisciplinary theater piece by award-winning poet, playwright and performance artist Paul S. Flores, who combines live Latin jazz, and timba beats, dance, video, and spoken word to explore the lives of Cuban artists, immigration and Afro-Cuban themes. Developed with jazz composer Yosvany Terry, DJ Leydis, choreographer Ramon Ramos Alayó and directed by Rosalba Rolón, 
WE HAVE IRÉ is a musical play about blessings, good fortune, balance and destiny.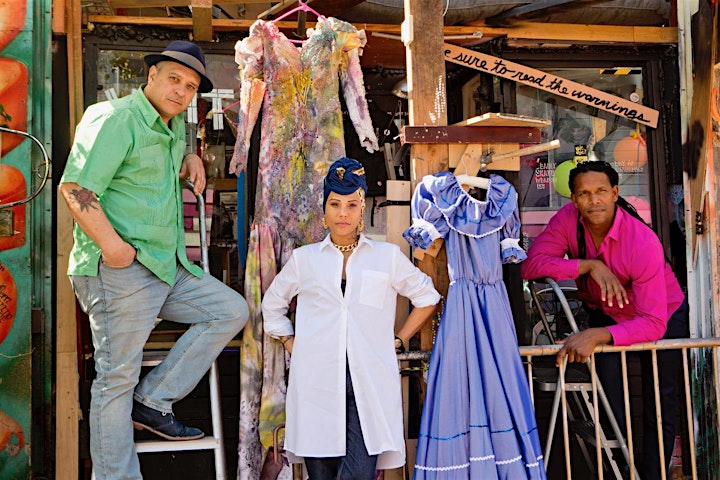 A poet, a musician, a dancer, a DJ. All are Cuban. WE HAVE IRÉ is a bilingual musical play about their inspiring, difficult yet triumphant journeys from Cuba's countryside to the big city, to the United States, and back. A 12-piece ensemble brings these true stories to life through a vibrant performance of Afro-Caribbean music, contemporary dance, spoken word, storytelling, and Jazz.  
"WE HAVE IRÉ opens up important conversations about Afro-Cuban immigrants, giving them space to tell their stories on their own terms though dance, music and theater," remarks Flores. "I chose to set the play in a club called Que Rico, Asere! (meaning 'It's good to be Cuban, my friend') to highlight the joy Cubans bring to all whenever they get together to share their talents. WE HAVE IRÉ also focuses on the nuances of Latinx identity, including Afro-Cuban, by breaking down stereotypes and revealing the complexities of being Black, immigrant, female, and bilingual. The artists in We Have Iré are well known in the Bay Area and have accomplished a high level of excellence in the United States, Cuba, and abroad. This is a chance to know their personal stories of how they became who they are today, what they risked, and how they are inspired to stay connected to their homeland while living between two countries." 
Shaped by Flores's research into his own roots and interviews with collaborators, the performance profiles Terry, whose unique confluence of Cuban roots music and jazz "has helped redefine Latin jazz as a complex new idiom" (New York Times); DJ Leydis, who helped establish a thriving scene in Havana's spoken-word and hip-hop underground and garnered U.S. attention long before she arrived stateside in 2006; and dancer, teacher, and choreographer Ramos Alayo, who founded the Alayo Dance Company and CubaCaribe and has performed with some of the most respected choreographers in the Bay Area, including Robert Henry Johnson, Kim Epifano, Sara Shelton Mann, Joanna Haigood/Zaccho Dance, and Robert Moses' Kin. The play also features video footage from filmmaker Eli Jacobs-Fantauzzi, who documented Flores's research process throughout. In WE HAVE IRÉ, the cast of characters gather to party, dance, and play music while sharing stories about their traditions, their lives in Cuba, and their individual journeys from Cuba to the United States and back. Flores's deeply personal dive into themes of transnationality and citizenship is supplemented by traditional Yoruba songs and dance from Alayo, live Cuban jazz from Terry, Latinx hip-hop and timba beats from DJ Leydis, and bilingual spoken word to underscore the virtuosity of Afro-Cuban and Cuban American artists.