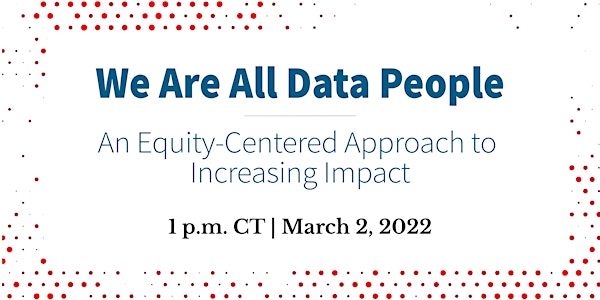 We Are All Data People: An Equity-Centered Approach to Increasing Impact
Join the launch of a series of free learning opportunities for increasing social sector impact, capacity and connection around data.
About this event
Social sector organizations can increase their impact and advance their missions by cultivating effective, ethical, and equitable data practices. Based on St. Louis social sector input, the Data Science for Social Impact initiative is launching free, accessible programming to build capacity in these areas. We believe we are all data people, and we all have a role to play! Specifically, this initiative will help you and your organization: 
ASSESS where you are, where you are going , and why
CULTIVATE data-informed culture
COLLABORATE with community data partners
BUILD infrastructure
TRACK your impact
ENGAGE stakeholders and translate results into action
Please join us and hear from local and national leaders, connect with a diverse network of social sector colleagues, and explore how upcoming learning opportunities align with your organizational values, goals, and priorities.
Speakers:
The Data Science for Social Impact initiative is a partnership between the Social Policy Institute at Washington University in St. Louis and the Mastercard Center for Inclusive Growth, in collaboration with an advisory committee, the St. Louis Regional Data Alliance, and data.org.