Washington Wing Cadet Workshops / 75th Year of the Cadet Program Banquet

Saturday, November 4, 2017 from 6:00 PM to 10:00 PM (PDT)
Event Details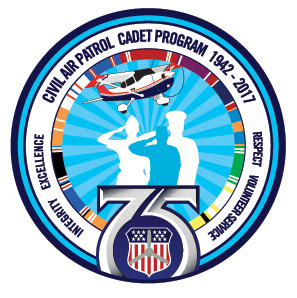 THANK YOU FOR REGISTERING!
Ticket sales are now closed.

Please be sure to bring your tickets with you! Due to limited capacity, we will be checking tickets at the door.
---
November 4, 2017
The McChord Club, JBLM, Wash.

Register now for Washington Wing Civil Air Patrol's Cadet Programs Workshop and 75th Year of the Cadet Program Banquet!

Celebrate the 75th Anniversary of the Cadet Program and our members who served in the military!


Former Cadets register with their highest grade earned for their name badge! Attend the Cadet Alumni Reception at 4pm!


Network, share ideas, and reconnect with cadets and officers from around the wing!


Cadets will enjoy a formal dinner and ball with cadets from across the state!

See updated event schedule!
Don't forget to submit your contribution to the 75 Years of the Cadet Program video ASAP!
---
Daytime Events

| | | |
| --- | --- | --- |
| Time | Event | Open to |
| 11:30 AM to 6:00 PM | Cadet Programs Workshops | All cadets and senior officers |
Evening Events

| | | |
| --- | --- | --- |
| Time | Event | Open to |
| 4:00 PM to 6:00 PM | Cadet Alumni Reception | All former cadets |
| 5:30 PM to 6:00 PM | Banquet Reception | All banquet attendees |
| 6:00 PM to 8:00 PM | Banquet and Awards | All banquet attendees |
| 8:00 PM to 9:00 PM | Social | Adults only |
| 8:00 PM to 10:00 PM | Cadet Ball | Cadets |

Questions? Contact kandyce.lewis@wawg.cap.gov
---
FALL BANQUET & 75th YEAR OF THE CADET PROGRAM
Guest Speaker



Col. Stephen P. Snelson,
Vice Commander, 62nd Airlift Wing
Joint Base Lewis-McChord
Colonel Stephen P. Snelson is the Vice Commander, 62nd Airlift Wing, Joint Base Lewis-McChord, Washington. Also a former Civil Air Patrol cadet, Col. Snelson assists the commander in ensuring the readiness of more than 2,400 active-duty military and civilian personnel, along with 48 C-17 Globemaster III aircraft, to support worldwide combat and humanitarian airlift and airdrop operations. He is also charged with overseeing the wing's programs on human resource management, environmental issues, installations security and readiness.
In addition, the 62nd AW serves as the primary active-duty wing in support of Operation DEEP FREEZE, partnering with Reserve, Guard, and civilian agencies, to provide airlift support for the National Science Foundation's U.S. Antarctic Program. The wing also provides mission support to the 446th Airlift Wing (Associate). (See bio)
 
Emcee

 
Cadet Lt. Col. Piper Phillips
Assistant Cadet Programs Development Officer
Washington Wing, Civil Air Patrol
Cadet Lieutenant Colonel Piper Phillips is 19 years old. She is currently the Assistant Cadet Programs Development Officer for Washington Wing. Within CAP, she has served in various positions at encampments in Washington, Oregon, and Hawaii Wing. Cadet Phillips served as Cadet Deputy Commander at Washington Wing's Emergency Services Training Academy for the 2016 training year. Phillips also served as Curriculum Director at the 2016 Pacific Region Cadet Leadership School. She most recently attended International Air Cadet Exchange as a cadet ambassador in the Netherlands. In June 2016, C/Lt Col Phillips graduated with her high school diploma and received her Associate's degree with honors from Centralia College. Currently, Phillips works as a Hyperbaric Technician, while additionally working as a music teacher and medical biller/coder. She plans to train as a CNA (Certified Nursing Assistant) while pursuing a Bachelor's degree in Psychology.


Buffet Dinner
London Broil & Carved Roasted Turkey and Gravy
Green Beans w Bacon and Onions 
French Style Honey Glazed Carrots
Rustic Mashed Potatoes & Rice Pilaf
Fresh Greens with tomatoes & dressing 
Fruit salad
Freshly Baked Dinner Rolls with Butter
Coffee & Tea Service
Dessert

---
FALL SENIOR & CADET WORKSHOP
As Fall draws near, it brings with it the exclusive opportunities of the season: celebrating the Cadet Program's 75 years of service and Washington Wing Cadets' contributions to their community through our annual Fall Workshop. Join us for exciting senior and cadet workshops, fun activities, and great food! 
Uniform for the day will be any combination of blues with an option of semi-formals for the banquet.
All questions related to the Workshops should be directed to Lt Col Maxwell at Kathy.maxwell@wawg.cap.gov.
Cadet Workshop
The cadet workshop will consist of the five hours preceding the wing fall banquet from 1200 to 1700. This is an excellent opportunity to make new friends within the wing and rekindle past friendships. This year, one of the highlights will our job fair-style activity where different CAP activities such as Arlington Fly-In, Pararescue Jumper Orientation Course, Basic Marksmanship Activity, and encampment will have tables for cadets to visit. In addition, a variety of workshops to include breakouts for NCOs, airmen, and cadet officers will be offered with handpicked instructors to provide the most memorable experience.
Cadets are heavily encouraged to attend both the workshop and the banquet, as both bring unique and eventful opportunities.  To attend the cadet ball at the end of the banquet, cadets must register for the banquet. Cadets may bring parents, guardians, or family only. To request lodging for Friday or Saturday night, please have your Deputy Commander for Cadets contact Lt Col Maxwell at Kathy.maxwell@wawg.cap.gov.

Form Required: CAPF 32 - Please bring to check-in with appropriate signature.
Senior Workshop
Please come preview the upcoming activities and opportunities for 2018 at the Fall Workshop for seniors hosted by the Cadet Program Department. Workshops will include the spring and summer activities, both wing and national, as well as how to apply and improve chances for selection. Yes, senior officers, you can and should attend the National Cadet Special Activities. We will tell you how and why.


---
FREQUENTLY ASKED QUESTIONS
Who may I invite to the event?
All friends and family are invited. Cadets may bring parents, guardians, or family only. 
What do I wear?
Males: Blues, Mess Dress, Corporate Whites or suitable evening attire.
Females: Blues, Mess Dress, Corporate Whites or suitable evening attire.  
What is the cancellation & refund policy?
No cancellations or refunds on this event accepted after Oct 21, 2017.  
Registration will close Oct 25, 2017, at 1700 hrs PST. No Tickets at the Door! 
No Tickets at the Door! 
How do I get on to Joint Base Lewis-McChord?
When entering McChord, a Cadet or adult CAP Officer's CAPID and Driver's License should be sufficient to access the Base.
If parents are dropping off cadets, please stop at Visitor Center before entering the base to get a Visitor Pass. To obtain a Visitor Pass, you must have with you an Enhanced Driver's License, Vehicle Registration, and Proof of Insurance. A passport may take the place of the Enhanced ID. A CAP Officer will be at the gate to assist with any issues.
When & Where

The Club at McChord Field
700 Barnes Boulevard
Lewis Mcchord, WA 98438


Saturday, November 4, 2017 from 6:00 PM to 10:00 PM (PDT)
Add to my calendar