Description
Date/Time: 2 Tuesdays, July 9 & July 16, 2019, 6:30 - 9:00 PM
Location: Women's Audio Mission Studio, 542-544 Natoma St., #C-1, San Francisco, CA 94103
---
Learn the proper way to apply all of the types of signal processing using outboard analog gear and digital plug-ins. Includes EQ (Equalizers), dynamic processing (compressors, gates) and time based processing (delays, chorus, reverb, etc.). Finish up the class with an overview of a mixing session in WAM's professional recording studio!
Pre-requisite: WAM Level 1 or equivalent basic recording training
Price: $60 members, $90 non-members
WAM Membership for 1 year is $40 ($30 for students). Join HERE.
About the Instructor: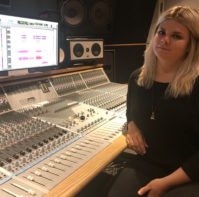 Veronica Simonetti has had the honor of recording a wide variety of audio at WAM's studio. She has worked with many musicians including Meklit Hadero, St. Lawrence String Quartet, Jessie Farrell, Lia Rose, Mariachi Femenil Orgullo Mexicano, Sonita Alizadeh, and FR333. She has also recorded a plethora of audiobooks, podcasts, and voiceovers for clients including Hachette Book Group, Simon and Schuster, National Geographic, Remembering Camp Trans, Reasonable Doubt, Webby Awards Podcast, and Pitch Makeover.

Veronica interned for WAM before graduating from the Jacobs School of Music at Indiana University with a B.S. in Recording Arts. She then moved to San Francisco and has been working with WAM ever since.