A Walk in Wyandanch During Long Island Mobility Week
About this event
Join the New York Coalition for Transportation Safety(NYCTS) and the Long Island Health Collaborative (LIHC) as we come together to combine Walk Safe Long Island and Walk with a Doc for a special event during Long Island Mobility Week! Dr. Keasha Guerrier of Long Island Jewish Valley Stream Hospital will briefly discuss the many health benefits of walking before we walk with the NYCTS team of pedestrian/bike safety experts through Wyandanch, ending at the Delano Stewart Plaza.
Stick around at the Plaza after the walk to celebrate Black Long Island's Ujamaa Fest! Celebrating Pan-African History and Culture through Vendor Market, Children & Family Activities, Panel Discussions, Live Performances, & Special Guests.
For more information, visit walksafeli.org, call (631) 257-6964 or email info@lihealthcollab.org.
Masks required and social distancing will be practiced. Event subject to cancellation based on current New York State guidelines.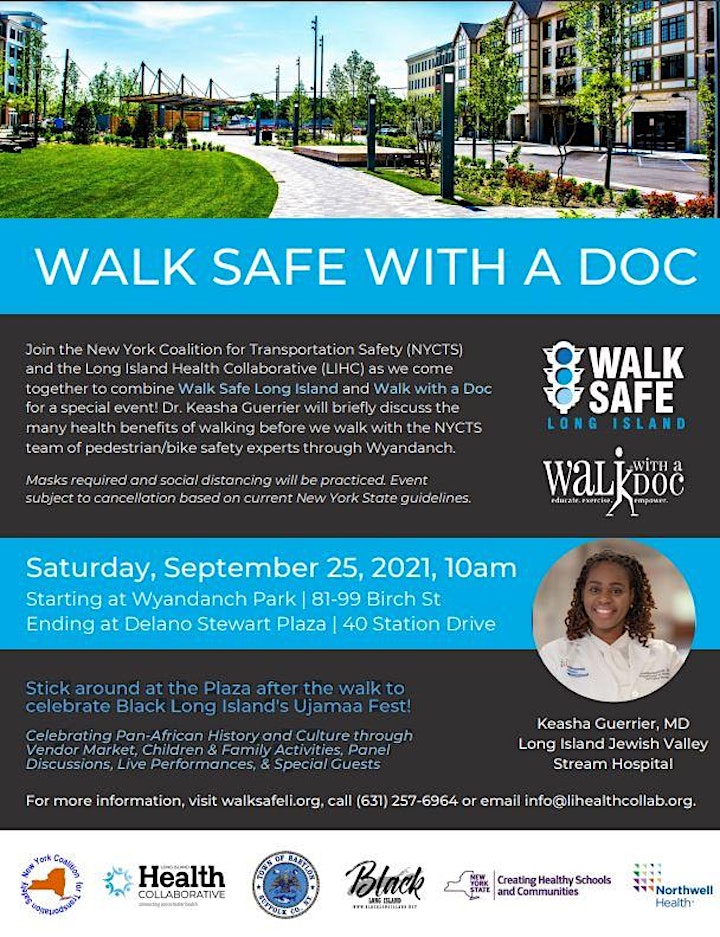 Organizer of Walk Safe with a Doc Wyandanch
The Long Island Health Collaborative is a partnership of Long Island's hospitals, county health departments, physicians, health providers, community-based social associations,  human service organizations, academic institutions, health plans, local government, the business sector, and more. The LIHC is the hub of population health activities on Long Island, and works together to provide a healthier community for the people we serve using the expertise and resources of our many unique members. 
*Population health activities of the Long Island Health Collaborative are funded by the Long Island Health Population Health Improvement Program, a New York State Department of Health grant.