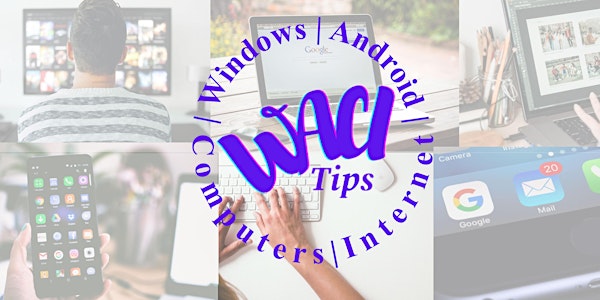 WACI - Windows | Android | Computers | Internet - Tips
We'll have some WACI fun; talk about programs, applications or updates; and then answer your individual questions and address challenges.
About this event
Our mission is to help senior adults make better use of their computers and the internet for chatting and social media, fun and games, word processing, education, research, information, news as well as organizing and editing photos, digital files, recipes, videos, bookmarks, etc.

We help seniors save time and lower their fear of and frustration with over-engineered and complicated tech.

Why Are We Doing This? My wife Judy and I firmly believe the internet holds an unlimited collection of knowledge and entertainment for senior adults to discover and enjoy. Think of the internet as the world's most amazing electronic library. Then think of us as reference librarians, there to help senior adults safely and confidently explore all that this world-class library has to offer.

Judy and I are Senior Adults Teaching Senior Adults. We have both been using personal computers and the internet since the mid-1980's and have separately been educating and training adults for decades. Our backgrounds are mainly Windows and Android based. However, most of the subject matter we teach works equally as well in the MAC and iOS worlds or has versions for these platforms.

Subject areas we cover include free programs and applications, productivity suites, browsers and search engines, privacy and security, email features and shortcuts, narrowing search results, using Zoom and its many features, Google apps, Windows 10 tips as well as general topics such as printers, green screens, ring fill lights, verifying information, avoiding scams and phishing, Zoom backgrounds, etc.

They'll be adequate time for us to answer your questions. It's our Zoom platform so we allow time to run over if needed.

Need one-on-one training? Schedule a session with us by clicking here for our online calender.