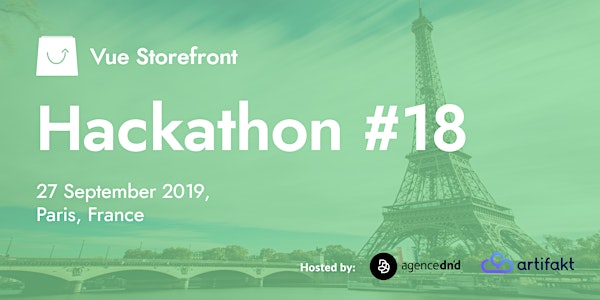 Vue Storefront Hackathon #18 @ Paris, France
When and where
Location
Agence Dn'D 62 avenue Gambetta 75020 Paris France
Description
On Friday 27th September, Agence Dn'D is hosting the 18th Vue Storefront Hackathon. What makes this hackathon stand out, even more, is the workshop presented by VSF onsite. You can also join this event remotely.
Official website: https://vuestorefront.io/events
Sign up via Eventbrite!

Contact Vue Storefront: contributors@vuestorefront.io
Vue Storefront is a standalone PWA storefront for your eCommerce. It allows you to connect with any eCommerce backend (eg. Magento, Pimcore, Prestashop or Shopware) through the API. Vue Storefront is open source, anyone can use and support the project. We want it to be a tool for the improvement of the shopping experience.

⏰ Agenda:
9:00 - 9:30 — Official welcome
9:30 - 11:00 — Introduction & Training by VSF team and Q/A
11:00 - 11:30 - Presentation Dn'D and Artifakt
11:30 — Let the coding begin
13:00 - 14:00 — Pizza break
14:00 - 17:30 — Coding to be continued
17:30 - 18:00 — Recap
18:00 — Beer + networking
➡️ The VS core front-end team will be available for questions on the Slack channel. Invite link:
http://slack.vuestorefront.io/
https://twitter.com/VueStorefront

#PWA #vuestorefront #vshackathon #Magento

About Agence Dn'D
Based in Paris, Montpellier and Lille, Dn'D is a french web agency specialized in consulting, design, development and support of BtoC and BtoB eCommerce websites. Since 2004 Dn'D supports brands from the luxury, retail, corporate, industry and mass consumption fields.
About Artifakt
Artifakt makes Cloud hosting accessible by delivering modern, secure and high-performing infrastructures for enterprise Web projects. Artifakt's DevOps solution enables developers to deploy and maintain Web projects autonomously and with ease.

Leveraging deep expertise in Magento and Cloud infrastructures, Artifakt provides fully managed Magento optimized platforms for demanding ecommerce businesses.