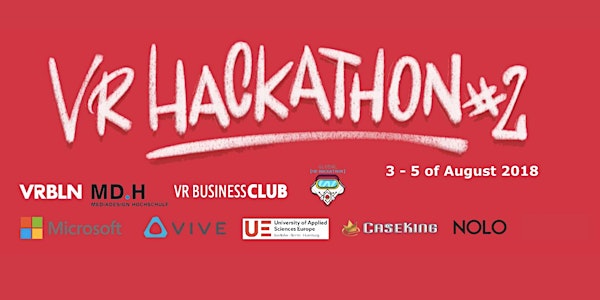 When and where
Location
MD.H Franklinstraße 28-29 10587 Berlin Germany
Description
VR Hackathon #2
Date:
Friday 3rd of August 7pm
to
Sunday 5th of August 6pm.
Gifts: Each participants will get a Window Mixed Reality VR headset from Microsoft.
First Price: Trip to China (flight and hotel) to compete with the Global VR Hackathon finalists.
Talent encouragement price: 5 Nolo kits (6 DOF tracker) Nolo.com
Theme:
"VR Social Collaboration":
it is about creating content and experiences together in VR for industries, communities, entertainment and art.
Program:
Friday 3rd of August 2018 - at MD.H (see address bellow)

19h00 – Doors open

19h30 - Opening ceremony (drinks and bretzel)
20h00 – Ideas pitching
21h30 – Teams get together
23h00 - End of the day
Saturday 4th of August 2018
9h30 - Doors open
10h00 - Start of the hackathon / open end

Sunday 5th of August 2018
12h00 – end of the hacking / enjoying demos
15h00 – Presentations
17h00 – Winner announcement / Party time!
18h00 – end of Hackathon
Who should join:
Graphical artist, motion designers, gamers, 3d artists, animators, sound designers, storytellers, developers, performance artists, filmmakers, journalists, digital designers, musicians, … and enthusiasts!
We encourage the participating teams to explore and create new forms of interaction in this new social reality.
Why joining:
- meet like minded people
- make an awesome VR project which everyone will benefit from
- have fun!
- get visibility from the big VR brands
Post Hackathon:
- optional space available on the following Saturdays for teams to polish their VR experience and put it on VR distribution platforms.
On site media coverage:
VR Business Club: live 360 video with interviews in Facebook Spaces (Developer's talk with VRCORE, Consumer's talk with Facebook USA, investors talk with Switzerland)
Where:
MD.H - opening day

Mediadesign Hochschule Berlin, Franklinstraße 28-29, 10587 Berlin.
(mediadesign.de)
Microsoft Atrium
Charlottenstraße 46, 10117 Berlin
Sponsors:
- Hardware: Microsoft Mixed Reality, HTC Vive, Caseking, XMG
- Location: MD.H, BTK
- Prices: VRCORE, Nolo
Media Partners:
- Microsoft, Mediennetzwerk Bayern, VR first und VR Meetup Leipzig

Organizers:

VRBLN, MD.H University, VR Business Club, VRCORE.
Contacts:
- Organization: Carl White (carl.white@vrbln.de, +49 176 459 303 80)
- Media/Sponsors: Oliver Autumn autumn@vrbusinessclub.com +49 171 701 780 1)