VR Weekend Workshop: Learn Unity

Friday, January 20, 2017 at 6:00 PM

-

Sunday, January 22, 2017 at 7:00 PM (PST)
Event Details
Intro to Virtual Reality Weekend Workshop 
VR is blowing up right now! The space is expected to grow into a $150 billion dollar industry by 2020. With the recent release of Playstation VR, Google Daydream and more, now is the time to learn how to be a part of this industry.
Join us on January 20 - 22nd, where in just 3 short days we'll teach you how to build VR experiences.This workshop gives you a foundation of knowledge to start your journey as a VR creator. You'll learn the basics of Unity and how to build a functional VR experience. Whether you're looking to explore a career as a VR developer or just looking to familiarize yourself with what VR can do, this course will give you a versatile toolset to build your skills.
We will announce more workshops focusing on business strategy, product concept and development for different industries soon. If you're interested in any future workshop offerings, please email mercedes@uploadvr.com. 
About UploadVR
Upload is the leading news, coworking, events and education provider in the VR industry. For more info check out www.uploadvr.com.
---
Prerequisites:
A computer with Unity installed 

Basic C# coding knowledge (if you've never programmed before then put a few hours in at Microsoft Virtual Academy or LearnC# - Either one will prepare you enough for this course).
What's provided:
Lunch, drinks, and snacks provided 

HTC Vives and Oculus Rifts for testing your creations

VR Gaming experiences to play with during down time

Free online courseware access for you to continue your VR education

Discounts to VR software and future VR education programs
---
VR Weekend Schedule:
Friday, January 20th (6pm-9pm)
6:00pm: Dinner, drinks and play VR games in our Holodeck Rooms (dinner catered by Chewse: lemon pepper chicken, mac+cheese, kale+apple salad, vegetable medley)

6:30pm: VR Weekend Talk: Christan Plagemann - Director @ Udacity and former VR Engineering Manager @ Google

7:00pm: Icebreaker

7:30pm: Intro to the VR Industry: history, design contraints, how VR works 

8:00pm: Intro to Unity | Building your first VR Experience & Selecting your project

9:00pm: Light drinks and hanging out then we're done for the night! Get some rest for a big day tomorrow!
Saturday, January 21st (10am-7pm)
10:00am: Meet and greet and play VR games in our holodeck rooms

10:30am-1:00: Learn to make your first VR game, SKI BALL 

1:00pm: Lunch

1:30pm-6:00pm: Finish making your VR SKI BALL Game
6:00pm-7:00pm: Stick around, test your game and play around in VR
Sunday, January 22nd (10am-7pm)
10:00am: Doors open

10:30am: Go over your SKI BALL game, address concerns and work through blocks

12:00pm-1:00pm: Learn about the Unity Asset Store and prep for your 2nd VR experience!

1:00pm: Lunch

1:30 - 5:30pm: Finish building your second project

5:30 - 7:00pm: End of class celebration and drinks, game testing and playing with VR
Instructors
Benjamin Taller
Lead Instructor @ Upload Academy, formerly built games @Sony @Zynga @Kabam
Benjamin Taller has been a virtual world pioneer for most of his life, starting at a young age making levels and mods for Doom, Duke Nukem 3d, and Quake. He always knew VR would be the future of gaming. Ben went to school for computer science and joined Metaplace in 2008. Shortly after Metaplace, Ben worked at Sony Online Entertainment building AAA virtual worlds. He also worked on Star Wars Clone Wars Adventures: a large scale Star Wars Massive Multiplayer Online World. Ben subsequently worked at both Kabam and Zynga on social and mobile games. He has been using Unity professionally for almost four years. This past summer, Ben was an instructor for the Upload Academy, an 8-week intensive VR coding academy in partnership with MakeSchool.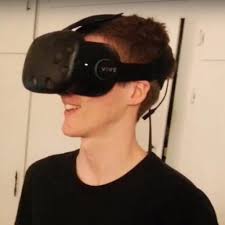 Sky Nite
Best selling author of Virtual Reality Insider, CEO of Dimension VR, Instructor @ Upload Academy
Sky Nite wrote 'Virtual Reality Insider', the bestselling VR book in the world for the last 2 years. He then taught himself the VR stack and went on to build a VR game company, Dimension VR before joining Upload. This past summer, Sky was an instructor at the Upload Academy, an 8-week intensive VR coding academy in partnership with MakeSchool. Sky is currently working on expanding Upload's education efforts in a new online program with Udacity. You can normally find Sky at meetups around town, VR forums, and on the top of Reddit for all kinds of wonky stuff.
Guest Speaker
Christian Plagemann 
Director for Udacity Blitz and initiator of the Udacity VR Nanodegree. Previously co-founded the Google VR team, the Daydream platform, and worked on Physical Interaction research at Google — to make user interaction more direct, intuitive and enjoyable. Before that, worked on the Self-Driving Car at the Artificial Intelligence Lab of Stanford University, co-founded the 3D Vision Lab and Numovis Inc., a tech startup focused on motion tracking and computer vision for user interaction. Received his PhD in computer science from the Department of Computer Science of the Albert-Ludwigs-University Freiburg, Germany (Autonomous Intelligent Systems).
No refunds. Questions?
Please contact Mercedes Bent, mercedes@uploadvr.com
When & Where

Upload Collective
1535 Mission Street
San Francisco, California 94103


Friday, January 20, 2017 at 6:00 PM

-

Sunday, January 22, 2017 at 7:00 PM (PST)
Add to my calendar