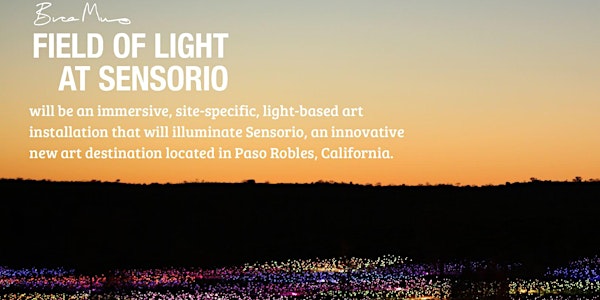 Volunteers for Bruce Munro: Field of Light at Sensorio
Volunteer for Bruce Munro: Field of Light at Sensorio!
When and where
Location
Sensorio 4380 Highway 46 Paso Robles, CA 93446
About this event
Overview
Internationally-acclaimed artist Bruce Munro will create his largest artwork to date at Sensorio-an enormous multi-acre walk-through installation. Bruce Munro: Field of Light at Sensorio will use an array of over 58,800 stemmed glass spheres lit by fiber-optics, so that the landscape will be gently illuminated in multi-hued color-changing waves.
Powered by solar, the stunning exhibition will captivate visitors, inviting them to engage with the landscape and environment through a surreal light based and sculptural experience.
To be unveiled in May 2019, Bruce Munro: Field of Light at Sensorio will offer a breathtaking, not to be missed experience that will attract thousands of visitors to California's Central Coast, enhancing Paso Robles' reputation as a world-class destination.
Want to get involved? Easy, become a volunteer and help bring this project to life!
Volunteer Specification
Volunteers must be aged 18 or over, hard-working and happy to follow instruction. An interest in art is desirable but not essential.
Volunteers will be required to carry out the following actions/tasks whilst working on the following Installations:
It is preferred that volunteers work a minimum of three shifts. It is also preferable that volunteers stay with us for a whole day, working both morning and afternoon shifts. This minimizes the training we have to give, allowing us to work more efficiently.Duties include:
• Walking over/through trailing fiber optics
• Carrying awkward objects
• Various repetitive tasks
• Repeatedly bending down
• Repeatedly walking back and forth
• Using small hand tools
• Threading fiber optics
• Working on uneven terrain
Volunteer shifts are weekdays from 8AM-12PM and 12:30PM-4:30PM starting Tuesday, April 9th through Wednesday, May 15th.
*If you register for 3 or more shifts you will receive (2) Invitations to the Friends & Family Events on either Friday or Saturday, May 17th & 18th plus (4) additional passes to use anytime while Sensorio is open May 19th 2019 through January 5th 2020.
For more information please visit: http://www.brucemunro.co.uk/
Volunteer Coordinator Contact Information:
Tara Peck
tpeck@sensoriopaso.com