About this Event
Voices From the Kitchen | A twice-yearly experiential storytelling project featuring the voices of talented storytellers, writers, activists and thought leaders. The performances are inspired by a chosen theme -- "Choices" -- told through the lens of food. Proceeds benefit La Cocina's incubator program, which cultivates low-income women, talented food entrepreneurs.
In light of Covid, this stage production will be broadcast for the first time as a virtual show, making it accessible to communities nationwide and beyond. It will premiere at 5:30 PM (PT)/ 8:30 PM (ET) on October 29, 2020, on YouTube. Tickets are FREE, but you must register.
Theme: Choices | 2020 has presented us with an almost endless series of choices, while sometimes simultaneously leaving us feeling there are few viable options. This production captures inspiring and personal narratives from 8 storytellers and 2 film shorts that speak to this unique time.
The Line Up | Lauren Whitehead | Jia Tolentino | Aileen Suzara, LC Entrepreneur | Noah Cho | Mayukh Sen | Jennifer 8. Lee | Chris Colin | Nic Jay Aulston | Rachel Levin
Food Packages = Ticket + Meal | This year, you can order a meal kit to enjoy while watching the show from your home. The meal kits feature curated menus by the chefs born out of La Cocina's incubator program. Food packages will include access to view the show. Visit the ticket section and scroll down to purchase your preferred meal kit.
Meal Kit Options | All menus are designed and prepared by La Cocina's talented chefs and include delivery, a beverage by Oatly, and fun swag.
>> National Package:The national snack box below is available for shipment within the USA. Consider purchasing the artisanal snack box by 10/16 in order to ensure arrival to the East Coast by the event date; the final order deadline is 10/21 though arrival is not guaranteed by the event date.
Artisanal Snack Box: Sal De Vida Roasted Habanero Salt (+ a personalized recipe to make your own popcorn), Origen Oaxacan Mole Negro Trail Mix, NeoCocoa Quintet Chocolate Truffles - $75.00 (includes box shipping cost within USA) .
>> Local SF Bay Area Packages: The local appetizer box and meal kits below can only be delivered within the cities of San Francisco, Oakland, Alameda, Berkeley, and Emeryville. If you are not located within these areas, you can also arrange a pick up. Refer to the description in each food package in the ticket section for more details. Purchase a meal kit package by 10/23. The appetizer box and meal kits cannot be shipped nationally or beyond the cities listed.
With Gratitude | This event would not be possible without the support of our news media sponsor San Francisco Chronicle and sponsors Morrison & Foerster LLP, Oatly, Postmates, and Via Licensing.
The show will be posted on La Cocina's Youtube channel and open to the public beyond October 29, 2020.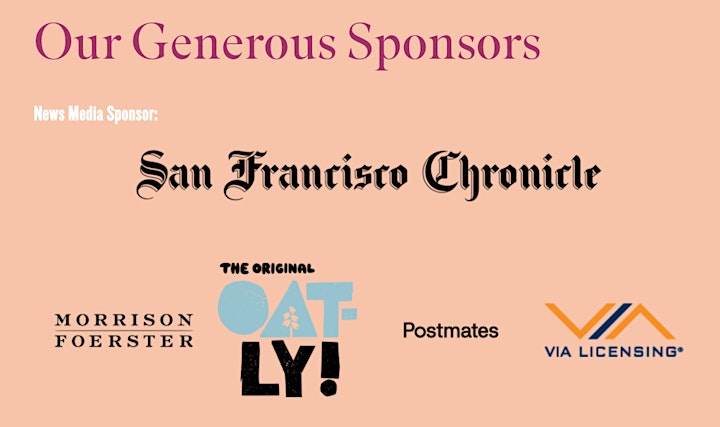 Date and Time
Location
Refund Policy