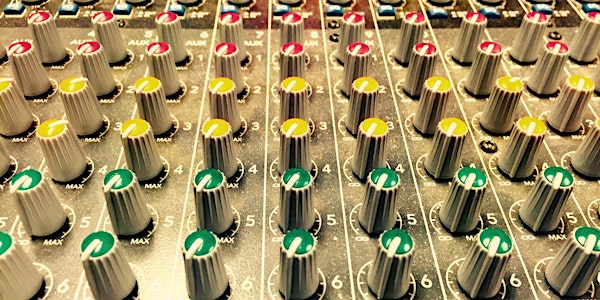 VO TECH DEEP DIVE AND ELEARNING EXTRAVAGANZA
When and where
Location
338 West 23rd Chelsea Theatre Space between 9th and 8th ave New York, New York 10031
Refund Policy
Refunds up to 7 days before event
Description
Audio engineer extraordinaire Amanda Rose Smith and Tom "The VO Strategist" Dheere have joined forces to produce a one-of-a-kind event: The VO Tech Deep Dive and eLearning Extravaganza!


---


This all-day workshop will consist of two classes: in the morning Amanda will dive deep into audio engineering (from studio creation to mastering files) and in the afternoon Tom will run an intensive "Learning to do eLearning" seminar covering everything you need to know about the world of eLearning and Corporate narration (which includes live coaching).
DATE: Thursday, May 30th (the day after APAC) from 9AM to 3PM.
Location TBA.


Breakfast will be served for morning attendees, and lunch will be served for afternoon attendees.


---


More on Each Workshop:


---

VO Tech Deep-Dive:
This workshop will be a deep dive into the technical aspects of recording audiobooks in a home studio.

We will cover:
Basic Acoustics: Making your space record ready, from DIY closet it to pre-fab booth, and mic placement

Riding the Wave of Signal Flow: The equipement you need, what it does, and in what order, from mic to computer and everything in between!

Mastering Techniques: Plug Ins most often used for mastering books, their basic operation, and how to know if you're within the apppropriate specifications for ACX and other publishers. This will include explanations of EQ settings, dynamic processing (compression, expansion, limiting), and noise reduction, as well as the correct order in which to apply them and how to know if you've over or under used them.



This is subject to some smalll additions or re-arrangement up to the last few days before the event. Please check back for updates! And PLEASE let me know if you have subject suggestions! The content is still being created, with the aim of tailoring it specifically to the attendees.

there WILL be a Q/A section to the event as well, to answer your specific tech questions.
---


Learning to do eLearning


This workshop will introduce you to the world of eLearning narration.

We will cover:


The difference between eLearning, corporate, and industrial narration

How students and employees consume content

Types of eLearning material Narration techniques

How to get the work How much to charge


There will be a Q/A section as well as live coaching.
Copy will be provided but you are welcome to bring your own.
---
See you there!