Sales Have Ended
Registrations are closed
Thank you for applying to the Vive Developer Jam! We will review your application carefully and send you an email that will notify you about your acceptance status. In the meantime, if you have any queries or you want to withdraw your application, please contact us at ViveDeveloperJam@htc.com
Sales Have Ended
Registrations are closed
Thank you for applying to the Vive Developer Jam! We will review your application carefully and send you an email that will notify you about your acceptance status. In the meantime, if you have any queries or you want to withdraw your application, please contact us at ViveDeveloperJam@htc.com
In partnership with Admix and Goldsmiths University of London, Department of Computing.
About this event
Update
All applicants have now been informed on whether they have been accepted/rejected/wait-listed to attend the event.
An email with further information and instructions on how you can get prepared for the event was sent to all accepted participants (20/01/2020). If you haven't received an email please make sure you check the spam folder, add vivedeveloperjam@htc.com in your contact list or ask us by sending an email.
DESCRIPTION
Join us for the upcoming HTC Vive Developer Jam in London, a 3-day developer event to experiment and create the next generation of XR applications. Using the latest in VIVE hardware, including forward-thinking SDKs like Eye/Lip and Hand tracking, we challenge you to redefine how people interpret and interact with Virtual Reality. Whether you want to build a game, art experiment or enterprise prototype, we'll have all the workshops, mentors and space you need to do something extraordinary.
Bringing together a mixture of software developers, designers, researchers and specialists to create the newest XR prototypes the Vive Developer Jam is one of the latest developer-focused initiatives from Vive.
Please note that this is an expression of interest and those who apply for tickets will be notified if their application has been successful. You must be able to attend all 3 days to take part in the jam.
If you have any questions please send us an email at vivedeveloperjam@htc.com or check the frequently asked questions below:
--------------------------------------------------------------------
Equipment
HTC Vive will provide the teams with:
Corsair will be the official PC hardware partner providing a VR-Ready Corsair One Pro for each team.
Prizes/Swag
We've got over £10.000 worth of awesome prizes and goodies for the winning teams and all participants, including:
Vive Backpacks
Vive Hoodies & T-shirts
Viveport vouchers
E-commerce vouchers to get your own Vive Device(£1000)
NVIDIA is giving away the World's Most Powerful Workstation Graphics Card: a Quadro P6000.
TG0 is sponsoring the event and will provide an etee Dev Kit to the team that will use etee for a prototype.
Litho as a prize partner will give away Litho Controller to the winners.
Blend Media is joining the event offering 10x tickets to Jeff Wayne's War of the Worlds Immersive Experience.
Tobii is a partner as well and is offering 5x Tobii 4C Eye Trackers to the winners.
Mentors
Mentors from Unity, FundamentalVR, Tg0, Litho, NBC Universal, North Breeze Entertainment and Tobii have volunteered to help teams design and develop their projects.
--------------------------------------------------------------------
Developer Resources
HTC Vive
Admix
Tg0 etee SDK
PRIZES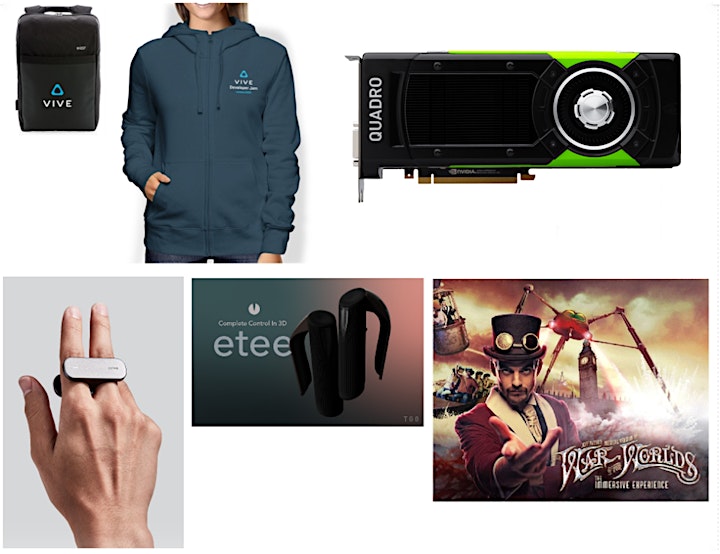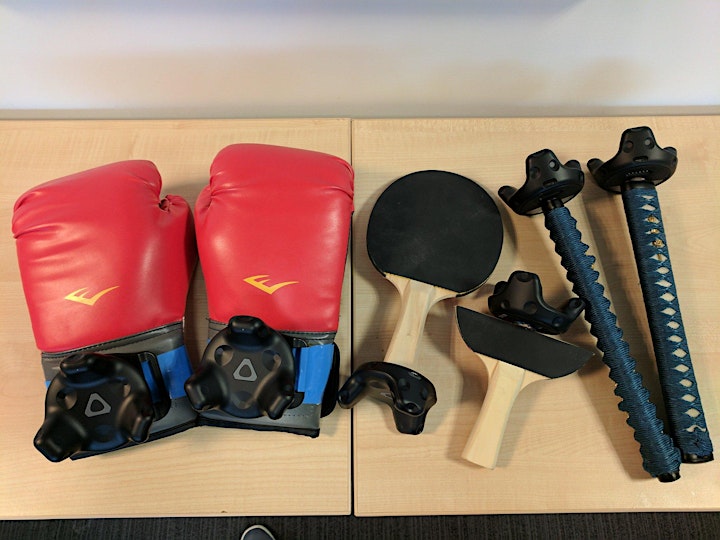 PRIZE PARTNERS

TG0 is a sensing technology company that is disrupting the way in which technology is integrated in Human-Machine Interfaces(HMIs) by turning inert materials into smartly designed intuitive gestural user interfaces. Our technology platform is based on a material and design-driven approach that brings together our unique application of conductive polymeric materials and traditional injection-moulding processes with a sophisticated patented surface engineering method and proprietary AI algorithms and machine learning software.
Etee is a five finger tracking controller with general computing applications. While traditional controllers use binary buttons, etee allows for gestural and grip-based controls. The intuitive design and patented touch-sensitive material have placed etee at the forefront of input devices and controllers. A compact, lightweight and approachable form enables broad use cases across various industries, from gaming, to AR/VR, location based experiences, corporate training, mobility, aviation, robotics, manufacturing, healthcare, smarthome and automotive, to name a few.

LITHO is the input device for the real world. LITHO's tracking technology unlocks the potential of real world interactions allowing developers to create more dynamic, intuitive and precise mobile AR applications than previously possible. Combined with a Unity SDK, developers can build apps that bridge the physical and digital worlds unlocking a new category of precise and intuitive mixed-reality experiences.

Blend's technology matches businesses looking to create immersive projects with skilled AR/VR creators from our large global network of verified professionals.Blend is trusted by Disney, Deloitte, Intel, L'Oreal, Facebook, Google, Framestore, McCann, Universal Music, The Macallan, Volvo & many more.

Tobii is the world leader in eye tracking and supplies products, technology and technology licenses to a wide range of devices and applications. With eye tracking as a base, Tobii powers new insights into human behaviour and intuitive user interfaces. In XR, eye tracking is used by device manufacturers, software solutions providers and end users alike to create more powerful devices, immersive interactions and actionable insights. Apart from delivering the core eye tracking technology to HMDs like the Vive Pro Eye, Tobii also offers an eye tracking SDK that broadens the usefulness of today's HMDs. The Tobii XR SDK provides ready to use eye tracking features for common use cases, such as detecting user attention and reliably determining visual focus of the user.
OFFICIAL HARDWARE PARTNERS


MENTORS PROVIDED BY: