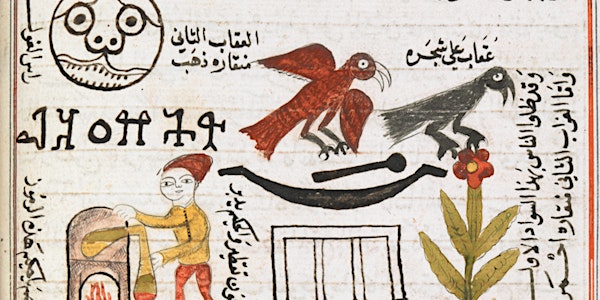 VISIONS OF ZOSIMOS: Alchemical Strategies for Art Making, an online event
Join Eliza Swann for this lecture on the spiritual philosophies of Zosimos and how ancient alchemy can support our creative practices
Refund Policy
Contact the organizer to request a refund.
Eventbrite's fee is nonrefundable.
About this event
In this 90 minute lecture, we'll learn about the ancient art of alchemy and how it can uplift and support us in diverse contemporary creative practices. We'll focus specifically on the creative and spiritual philosophies of Zosimos of Panopolis, an alchemist living in Egypt in the 3rd century CE. Against the wider backdrop of alchemical religion and philosophy, we'll examine Zosimos's spiritual and artistic methods that use meditative practices, astrology, and the conjuration of the spirits of nature to achieve insight and transformation. Zosimos reveals an alchemy in which spiritual and material realities are ultimately nondual; in which materials become living bodies for divine spirits. In getting to know Zosimos, we can learn to employ his strategies for creative breakthrough and generative connection in our own lives.
Eliza Swann is an interdisciplinary artist, intuitive, writer, and educator based in New York City and Twentynine Palms, CA. Eliza received a BA in Painting from the San Francisco Art Institute, and an MFA from Central St. Martins in London. They are currently teaching alchemy at the Pratt Institute. Eliza founded the Golden Dome School in 2014 as an educational and curatorial platform for artists to explore mysticism.
This event is in being held in support of BOILING AND DIVINE: Art and Alchemy with the Golden Dome School on view in the Hansell Gallery from 9/17-10/15.
"How does Nature learn to give and to receive? Metals give and plants receive. The stars give and flowers receive. The sky gives and the earth receives. Thunder yields flashing fire. All things are interwoven and unravel. All things mingle and fuse. All things mingle and disperse. All things moisten and dry. Inhalation and exhalation are the method of Nature. Nature rotates and cycles back upon itself." - Visions of Zosimos, Zosimos of Panopolis, 3rd c CE
BOILING AND DIVINE is a collection of artworks and a series of lectures made in response to the literary and visual legacy of alchemy. Participating artists made work alongside one another during the Golden Dome School's ALCHEMICAL IMAGINATION intensive led by Eliza Swann and is being exhibited at the Philosophical Research Society from September 17th-October 15th. Manly Palmer Hall and PRS have contributed an enormous amount to the preservation and propagation of the divine arts of alchemy – we are indebted to him. The Golden Dome is an educational and curatorial platform dedicated to studying the relationship between art and mysticism.
Syd Buffman
Jesse Carsten
Josie Close
Elizabeth Huey
Sarah Manuwal
Mollie McKinley
Samantha Rehark
Carolina Mariana Rodriguez
Eliza Swann
with performances by Diva Dompé, Kwonyin, Patrick Mansfield
VISIONS OF ZOSIMOS IS BEING HELD ON ZOOM AND WILL BE RECORDED. PLEASE EMAIL EVENTS@PRS.ORG IF YOU HAVE ANY QUESTIONS.