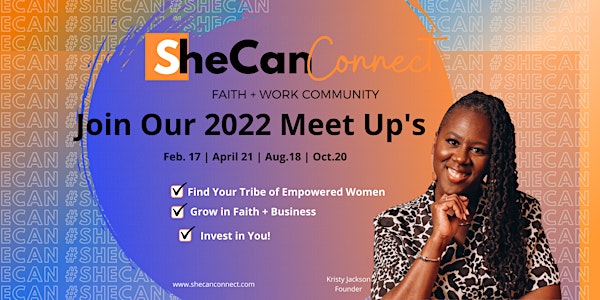 Virtual #SheCan Connect Networking Meet Up
Are you a woman seeking a faith+work network offering growth, strategy, resources and inspiration? Now choose from day or evening gatherings
About this event
#SheCan Connect is a growing community for female leaders, entrepreneurs, side-hustlers, and creatives. The women who are a part of #SheCan Connect are women of faith who seek growth, strategy, resources, and inspiration combining spiritual growth and professional elements.
____________________________________________________
Many professional women's groups offer one or the other...but not ours. Female leaders and CEOs who engage in professional and spiritual growth opportunities go further and faster. We believe that kingdom efforts bear earthly fruit. We want you to join our tribe!
Check your availability now for the 2022 #SheCan Connect Evening Meetings held virtually.
#SheCan Live in the STILLNESS of No and the POWER of Yes! | August 18 @6:30 pm
Speaker, Emem Ituen
o Command your power for Goal setting vision casting
#SheCan Dream Beyond Fear | Wealth & Wisdom October 20 @6:30 pm
o Finances, investments, and the power of giving and receiving with generosity
Speaker, TBD
______________________________________________________
We have added WEW & SheCan Connect Collaboration Breakfast Meetings! You now have a day or evening gathering option! RSVP Here!
Join us for the same powerful speakers and networking at a new monthly breakfast hour at SqWires Restaurant Front Room at 10-12 pm .
*You order and pay for your meal seperately.*
July 6, 2022
Aug. 10, 2022
Sept. 14,2022
Oct. 12,2022
Nov. 9, 2022