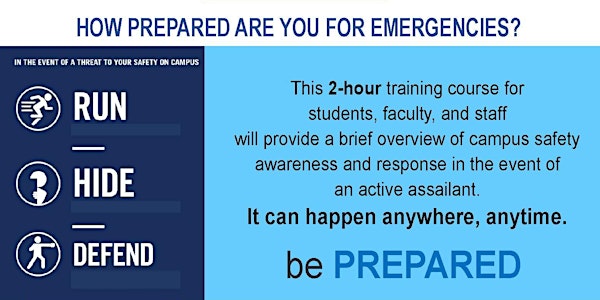 Virtual, Run Hide Defend - Nov 15, 2022
This 2-hour free training course for students, faculty, and staff will provide a brief overview of campus safety awareness and response.
About this event
Be Prepared.
Recent national tragedies remind us that the risk and increase of attacks by an active assailant are real. Taking a few steps now to learn about preparedness can help you react quickly when every second counts.
Virtual, Zoom:
Tuesday, November 15th, 11:00 am – 1:00 pm. Zoom link with additional information will be sent prior to the session.
What we will cover:
What is an active assailant?
Historic lessons learned.
If you see something, say something.
What to look for?
Know the exits.
Find a place to hide.
Help first responders.
What can you do? Prepare yourself now by attending training provided by FHDAPD and learn helpful tools on how to protect yourself and others.