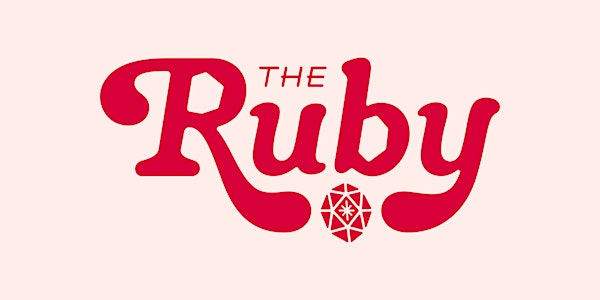 [Virtual Ruby] Artist Talk with Jiab Prachakul
Lunchtime discussion with Jiab Prachakul and Ruby members Sunisa Manning and Linda Mai Green
When and where
Location
The Ruby SF 23rd Street and Bryant Street San Francisco, CA 94110
About this event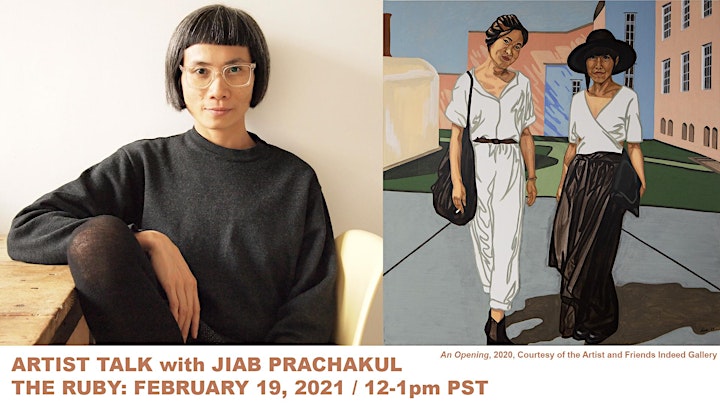 [This is a Virtual Ruby* event, taking place over Zoom. Join us: https://us02web.zoom.us/j/88226713472?pwd=c05jdVd5M0F5endPRkw1aUJQdEJ3QT09. Password will be sent with registration. Nonmembers are welcome to join; please donate if you are able!]
We are excited to announce a lunchtime discussion between the artist Jiab Prachakul and Ruby members Sunisa Manning and Linda Mai Green, on the occasion of Jiab's first U.S. solo exhibition, 14 Years, which runs from February 1 - April 30 at Friends Indeed gallery here in San Francisco. More details below.
* * * * *
Jiab Prachakul was born in Nakhon Phanom, a small town on the Mekong River in northeast Thailand. She studied filmography at Thammasat University before working as a casting director at a Bangkok production company. In 2006, she relocated to London and became inspired to paint after seeing a David Hockney retrospective. Shortly thereafter, she moved to Berlin. In a city known for its bohemian community of artists, Prachakul continued to pursue an entirely self-taught practice, making portraits of her flock of friends, many of whom were involved with fashion, film, and the visual arts.
For her show with Friends Indeed at Four One Nine, Prachakul presents a significant new body of work exploring the nuances of Asian diasporic representation through a series of intimate portraits. The artist says:
Our identity is given to us the moment we are born, but as we grow up it becomes a reflection of our choices: the books we read, the films we watch, the clothes we wear, the places we live, the foods we eat, and the people we spend our time with. These choices unfold themselves and are engraved, without us even realizing, in our physical gestures, our personal styles, and the look that comes from deep within our eyes.
A keen observer, Prachakul approaches the complexity of identity and authenticity through the genre of figurative painting. Pop cultural depictions of Asian Americans are historically monotropic—often casting characters in secondary roles as perpetual foreigners, villainous adversaries, or meek members of the model minority. In contrast, Prachakul's subjects are always leading figures, manifesting a vast range of personalities and emotional registers. An exuberant young girl in costume. A stylish couple with cool removal. A mired and moody youth. Her story-driven subjects play a social and psychological role, reimagining the traditional framework of portraiture as a space to rewrite staid narratives and representational tropes. Sometimes a single figure is presented humbly against an abstract field of color and other times, they are surrounded by the intricacies of a dense, domestic backdrop. In each interpretation, Prachakul's colorful and dynamic compositions display a delicate attention to detail. Her paintings convey both an immediacy and depth that cast her subjects in a humanizing and intimate light rather than perpetuate their status as Other. There is a general sense of culture, taste, and intellect—a refined internationalism not typically displayed in American genres.
Exhibition Details
Jiab Prachakul: 14 Years
February 1 - April 30, 2021, by appointment
Friends Indeed Gallery at Four One Nine
419 10th Street, SF, CA94103
* * * * *
Sunisa Manning's debut novel, A Good True Thai, is about the democracy movement in Thailand. She was born and raised in Bangkok, and now lives in the Bay Area. @sunisasn
Linda Mai Green is a filmmaker who recently worked on engaging Vietnamese American voters in the presidential election.
* * * * *
------
*While we shelter in place during the Covid19 pandemic, The Ruby's physical location will be closed. As a collective, we'll continue to gather online for virtual workshops, events, and discussions. All are welcome to join us for these events. * For those who can afford it and would like to support The Ruby during this uncertain time, we are offering 3 tiers of virtual membership: $5/week, $15/week, and $25/week. (Though we have some money in our emergency savings account to get us through the next little while, we're pretty nervous about the future, and how long this might go on for.) Please help only if it's feasible for you. If you're in a tough time financially right now, we absolutely get it. Please, take care of yourself and stay connected to this community so we can help.
Here are the tiers of virtual membership (use these links to sign up):
$5/week - https://www.joinit.org/o/the-ruby/aRsJyABygL4FvvEJT
$15/week - https://www.joinit.org/o/the-ruby/o56ggrnNNx9rzn6AA
$25/week - https://www.joinit.org/o/the-ruby/q37HfmWSQMoLzPt4p
Want to make a one-time donation of more or less? We can still accept donations through last year's GoFundMe. Link is here.
Our Virtual Ruby calendar will be updated as events are added.