About this Event
Have you ever wondered what a Girl Geek squad in aerospace does? Planet is partnering with Girl Geek X for a virtual Girl Geek Dinner on Wednesday, July 8th, 2020 -- Join us for lightning talks online starting 6PM Pacific Time on Zoom.
We will be celebrating the many milestones of our tech community, space, and beyond. This gathering will showcase stories from our incredible girl geeks, which will inspire, ignite, and launch your curiosity into the world of space imagery. Bring your snacks, bring your wine, bring all your questions… and maybe some popcorn too for an evening filled with unique stories, laughs, and engaging conversation.
We'll start off with intros, followed by the feature presentation of lightning talks, followed by Q&A. The closing credits will feature attendees getting a chance to share their stories! There will be 1:1 facilitated virtual networking after the main program, so register today to join us - it's FREE!
Lightning talks:
1. "Not Business As Usual: How Tech is Rethinking Diversity & Belonging in 2020" by Adria Giattino-Johnson, People Partner
We are all feeling the effects of a chaotic year. From personal to professional, this year has not only reshaped the way we think about connection, but also the way we think about diversity, equity, and inclusion. For many of us, large portions of our days are spent at work. How do we ensure that those work environments are safe and inclusive spaces for employees during this time? How do companies take measures to amplify diverse voices? Many tech companies, including Planet, are radically rethinking diversity programs and are working strategically to create sustainable, lasting change throughout the organization. Tune in to discuss these efforts and how tech companies are working to shatter "Business as Usual" in DEIB.
Did 2020 throw a spanner in your career path? With change as the only constant, how do you stay resilient and adapt to unplanned pivots? As an experienced "pivoteur", Lisa has taken the path less traveled – from mutual fund data analyst to food writer; startup founder to aerospace product management; USA to South Africa to Taiwan; and other divergence along the way. In this talk, she will share 3 lessons learned from Planet's satellite commissioning team on navigating career pivots in times of uncertainties.
In March of this year, nearly all of us here were suddenly inducted into the club of remote workers in tech. For many of us that shift turned how we experience our workweek completely upside down. For myself, though, not much actually changed: Sara has spent the last five years of her career working as a full-time remote employee, at a variety of companies with teams of all shapes and sizes. In this talk, Sara will share her experience as a long-term "remoter" in tech: she will talk about what works, what doesn't work, and what she's learned to do to make our work-from-home lives a little easier.
This day and age, if you're working in a Software Organization you're most likely doing Agile development … or trying to. Agile doesn't always have the best reputation, but when done "right" it can actually help you be more organized and actually have a work-life balance without pulling all nighters because there is a deadline or the sprint is ending. Barb will talk through some of her lessons learned while adopting Agile, from cadence to estimation to even negotiation.
We are at a time in tech where companies are collecting enormous amounts of data, and don't know what to do with it. Data can lead to incredibly valuable insights, but how do we extract information from 0s and 1s? What can 1000s of pictures of the same thing tell us? Kelsey will share her experiences and challenges working in Machine Learning on projects for Mars, in space, and on Earth.
When you think of a "Mission Control", you may picture something from a movie: a room full of white men all staring at multiple computer screens with nonsensical data flying across the reflection on their glasses. The ratio of people to spacecraft is about 60:1. From the beginning, the Mission Operations team knew that in order to image the entire planet every day, we would need to invert that ratio. In this talk, Deanna will discuss the milestones and missteps taken towards scaled satellite operations at Planet and what it's like to operate satellites from bed.
Elena will speak to the complexity of making decisions especially when they can have a long-term impact or when they can affect family, society, etc. She will explain her own process and how it has resulted in great benefits for her personal and professional growth in the last 25 years — how her interest in technology led her to the right people, to the right jobs and to the right decisions. She will also talk about the common elements that she had considered in the most important decisions that she has made, as well as those cases where she had not decided for herself — and how she turned what seemed to be the end of everything into an opportunity.
Memorable stories are an important part of supporting any project pitch, sales strategy, or personal brand. In our data-driven world, a great story is driven by emotion and balanced by fact. Sarah will share her experience in the aerospace industry and how good stories have transformed the business.
We are all in this together. As millions of people around the world began working from home, many looked to Planet for answers. Can satellite imagery help during a pandemic? Brittany talks through the real world applications of satellite imagery in the midst of a 'pause' on life. From monitoring halted commodities, the now quiet streets during rush hour, to the environmental impacts, this ongoing public health crisis is being documented by the largest commercial fleet of earth observing satellites, because you can't fix what you can't see.
About the speakers:
Adria Giattino-Johnson, People Partner at Planet
Adria began her career in Human Resources seven years ago with experience ranging from work as a generalist to consultant. She joined Planet's Federal division in Washington D.C. as a People Partner in 2019 where she was able to combine her passion for innovation and data with strategic human capital. Adria earned her master's degree at Georgetown University with a research focus on diversity, equity and inclusion in tech. She recently joined Planet's Head of Talent and Belonging as the co-lead to their Belonging Task Force.
Lisa Huang-North, Product & Program Lead at Planet
Lisa is a customer focused, data driven product management leader. She is a Product & Program Lead at Planet, the team responsible for delivering product solutions that help customers scale their business. Before joining Planet, Lisa had over a decade of industry experience spanning strategic consulting, finance, digital marketing, and fullstack software engineering. Outside of work, Lisa is an advocate for women in tech through organizations like Women in Product and Tech Ladies. In her free time, you will find Lisa building Lego Technic sets (current build: Land Rover Defender), coaxing her sourdough starter, and dreaming of the day we can travel to see friends & family again.
Sara Safavi, Head of Developer Relations & Software Engineer at Planet
Sara is a software engineer and lifelong space geek living in Austin, TX. Currently she leads the Developer Relations team at Planet Labs, where she helps developers, data scientists, and geo-people do amazing things with daily satellite imagery. With a background in geoscience and over a decade of industry experience, Sara specializes in education and enablement at the intersection of software and all things geospatial.
Barbara Vazquez, Software Engineering Manager & Developer at Planet
Barb is a Software Engineering Manager & Developer on the Applications team at Planet, the group responsible for building and maintaining most of the customer facing web applications, like Planet Explorer. She is originally from Puerto Rico and has been living in the DC area since 2008, working on geospatial software development. Her background is Computer Engineering, with a Masters in Software Engineering. If there is one thing to know about Barb, is that she loves good coffee and half the time will see her with a cup at hand.
Kelsey Doerksen, Space Systems Engineer at Planet
Kelsey is a Space Systems engineer at Planet, a part of the Mission Operations team. She co-founded the partnership between Planet and NASA's Frontier Development Lab, which gathers researchers from across the globe to solve complex problems using machine learning. She's passionate about using space to make impactful, positive change on Earth.
Deanna Farago, Engineering Manager, Satellite Operations at Planet
Deanna leads the team at Planet responsible for operating and maintaining the 100+ imaging satellites, or "Doves", currently on-orbit. Her team works closely with the other Space Systems teams to improve and iterate on our hardware in space. Prior to Planet, Deanna was at NASA performing human-in-the-loop experiments at the Vertical Motion Simulator. In her spare time, she enjoys recreating her mom's Vietnamese recipes, learning to roller skate, and playing in her community orchestra.
Elena Rodriguez, Account Executive, Latin America at Planet
Born in Venezuela. Since 1998 has been working in Sales, predominantly in Geospatial. Moved to Mexico in 2000 where she accepted a job in Guadalajara as a Sales Rep. at GTT Netcorp, which represented SPOT Image and ER Mapper, a specialized software for Remote Sensing. She was involved in the first sales of high-resolution satellite to government agencies. From 2006 to 2012 she worked as a Regional Sales Manger for Digitalglobe, covering Mexico, Central America, Colombia and Venezuela. Before Joining Planet she had worked for Microdrones as Regional Sales Manager from 2016 to 2018 and from 2018 to late 2019 at MAXAR. She is a proud mother of a 25 year old man and she has an old good friend, a Jack Russell called Rafaello. Elena has been a kundalini yoga teacher for over 10 years.
Sarah Preston, Product Marketing Manager at Planet
Sarah is a writer and storyteller, working with ambitious engineers and scientists to tell the world about their work. She is currently a product marketing manager at Planet Labs, exploring how we use space-based imagery to improve life on Earth. Previously she worked in marketing at Spire Global and was a global prize designer at the Xprize Foundation. Sarah is an avid reader and puzzler, drinking way too much tea while wrangling her labradoodle puppy.
Brittany Zajic, Business Development Analyst at Planet
Brittany is a natural disaster research scientist turned businesswoman. She brings 6 years of geospatial industry experience to Planet, working across both public and private sectors, including several years in the Earth Science Division at NASA. Planet is on a mission to fuel the insights needed for big systems change, advancing our understanding of the world today and our forecast for tomorrow. As a member of the business development team here at Planet, Brittany is responsible for the development of key partnerships and research of new markets that will help us achieve our ambitious goal. She also leads our global natural disaster operations and program, providing first responders access to Planet imagery in the event of large disaster events to accelerate humanitarian and disaster response. Brittany very recently discovered a new passion for cooking (some may argue out of necessity) and is a natural wine enthusiast.
About our trusted partner: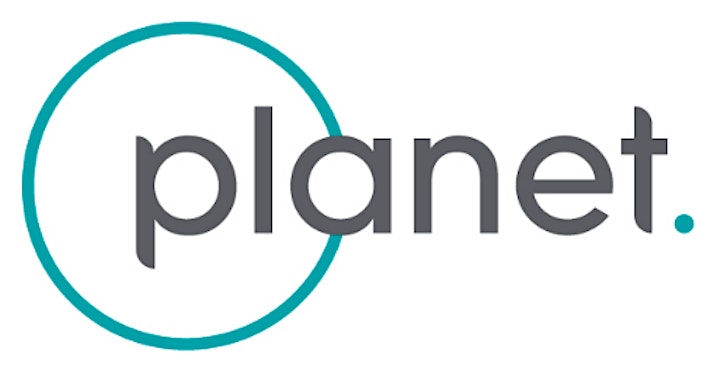 You can't fix what you can't see.
Planet believes in using space to help life on Earth. The company designs, builds, and operates a constellation of earth-imaging satellites to deliver an unprecedented dataset of empirical geospatial information via their revolutionary cloud-based platform. Customers and users across the globe use Planet's data to power research, deliver insights, and solve the world's toughest obstacles. Planet's team is a truly inspiring mix of experts from a variety of domains, as they control every component of hardware design, satellite manufacturing, image processing, and software engineering. Planet has a people-centric approach toward culture and community and they strive to put their team members first and foster careers in space technology.