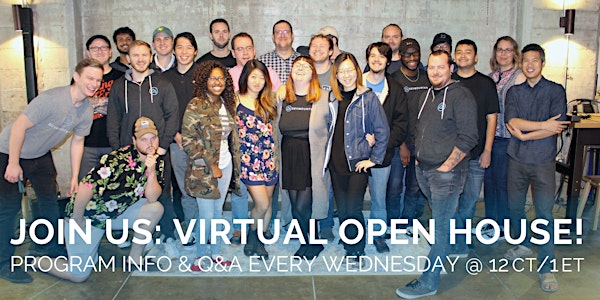 Multiple dates
VIRTUAL OPEN HOUSE Devmountain Coding Bootcamps
Ready for skills that can launch careers? Join our Virtual Open House. Listen quietly or speak up—see if our bootcamp is a good fit for you!
Date and time
Starts on Wednesday, May 10 · 10am PDT
About this event
Devmountain Welcomes You 🫵
Our Virtual Open House is open to everyone, because we believe virtually anyone can learn to skills needed for careers in development, software engineering, UX, analytics, cybersecurity, QA, and more—if you are ready to put in the work and committed to taking this potentially life-changing step.
Why Attend?
It's an easy way to see if you like us and if you want to attend a Devmountain bootcamp.
You'll get to observe (and judge) one of our instructors and admissions counselors, who will walk you through our different course structures and learning experiences.
With in-person web development bootcamps offered in Lehi, Utah, in Texas at North Dallas, NW Houston, San Antonio, Fort Worth, and Killeen, in Georgia at Lithonia and Chamblee, plus online courses in web dev, Java, Python, iOS app development, Software QA, and UX design, we have the course for you.
After all, our full- and part-time coding bootcamps are all about maximizing your investment of time—they're quality, immersive, accelerated learning that is respectful of your interest in skilling up fast, and less expensive than most other options.
What You'll Get
A candid introduction to bootcamp learning—with details about part-time, full-time, remote, and in-person options—and why we'd love to see you on campus!
Interaction with our renowned instructional staff and wider community of support.
An overview of our no-commitment application process and clarity on what steps to take if you're ready to enroll.
Space to have your questions answered (or additional contact info if you'd prefer to have a one-on-one consultation).
The information you need to make the right decision for you.
When
Wednesdays, 12:00–12:30 p.m. Central Time ⏰ (apparently, clocks used to look like this) with a few extra minutes for questions, if needed.
We look forward to connecting with you, whether you choose to introduce yourself and ask a question or listen in with your camera off.
Where
We'll send you a Zoom link to join from the comfort of your home, on your lunch break at work, or wherever you wish.
Frequently asked questions
Will I be asked to participate in the open house?
Can I attend more than one session?
Can I record the session?
About the organizer
Devmountain is an industry-leading coding school that began in the heart of the Wasatch Mountains. Founded by fellow coders, Devmountain's expert faculty love sharing their craft and empowering the next wave of programmers and entrepreneurs. Devmountain brings affordability + the highest quality, hands-on education to the tech space whether learning in-person or online. There are many ways to get involved including networking events, virtual open houses, part-time classes, and full-time immersive programs. Find your campus or online course at Devmountain.com. Research programming and software engineering topics at Devmountain.com/blog.