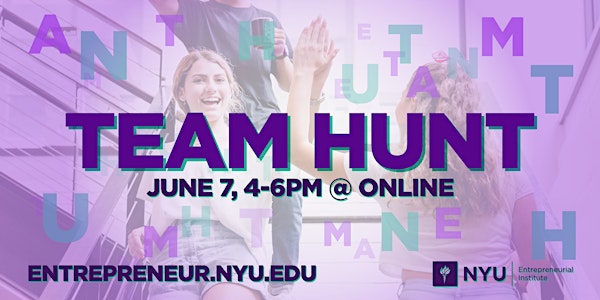 VIRTUAL NYU Startup Team Hunt
Meet other NYU entrepreneurs looking to join a startup or to add members to their startup team!
By NYU Entrepreneurial Institute
Date and time
Wednesday, June 7 · 1 - 3pm PDT
About this event
Looking to join a startup? Or looking to add a co-founder or collaborator to your team? Join us for a team hunt via Zoom where all current NYU students, faculty, staff and researchers are welcome. This is a great way to find collaborators in advance of applying for the Startup Bootcamp.
How it works:
In advance of the event, we'll send all registrants a Google form where they'll share contact info and what they're looking for (to join a team, to add people to their startup team)
At the event (via Zoom), those with an idea/venture who are looking for team mates to join them, introduce themselves for 30 seconds
Those hoping to join a team introduce themselves for 30 seconds
We let everyone mix and mingle via Zoom breakout rooms
All attendees will have access to the Google Sheet with registrants information to continue to reach out to each other.
The Google Sheet will be sent to everyone that attended the Team Hunt.
Attendees will also be encouraged to join a shared Slack channel as well
THE ZOOM LINK WILL BE EMAILED TO ALL REGISTRANTS ON JUNE 7. RSVPS WILL NOT BE ACCEPTED AFTER 12PM.
Attendees are encouraged to join the shared NYU Entrepreneurs Network slack channel
Note: This event is only open to current NYU students, faculty, staff and researchers. Unfortunately, NYU alumni are not permitted at this event.
No prior startup experience is necessary!
The NYU Entrepreneurial Institute provides reasonable accommodations to people with disabilities. Requests for accommodations for events and services should be submitted at least two weeks before the date of the accommodation need. Please email entrepreneur@nyu.edu for assistance.
About the organizer
NYU Entrepreneurial Institute leads a university-wide initiative to accelerate the pace of technology commercialization and the launch of successful startups founded by NYU's 60,000 students, faculty and researchers.