WEWLA will be hosting a Virtual Networking for Women in Business Event the 2nd Thursday of the month! Add it to your calendar now.
About this event
In 2022 we are bringing a new speaker to each meeting who will share business tips and resources. Join WEWLA members as we connect, socialize, share business tips and opportunities with women from all over the world while learning new ideas on how to stay in front of our audience. 😄
We will have a special guest speaker so be sure to add our event to your calendar as a recurring event. Happens every 2nd Thursday of the month from 10am to 11:30am PST. You don't want to miss out!
CLICK HERE to register and receive the link for our Zoom Networking event!
Women Empowering Women - Los Angeles is a community of +5,500 women who are all about community, support and showing up as the #Boss Woman you are 😎
Visit WEWLA.COM to see more about who we are and what we do.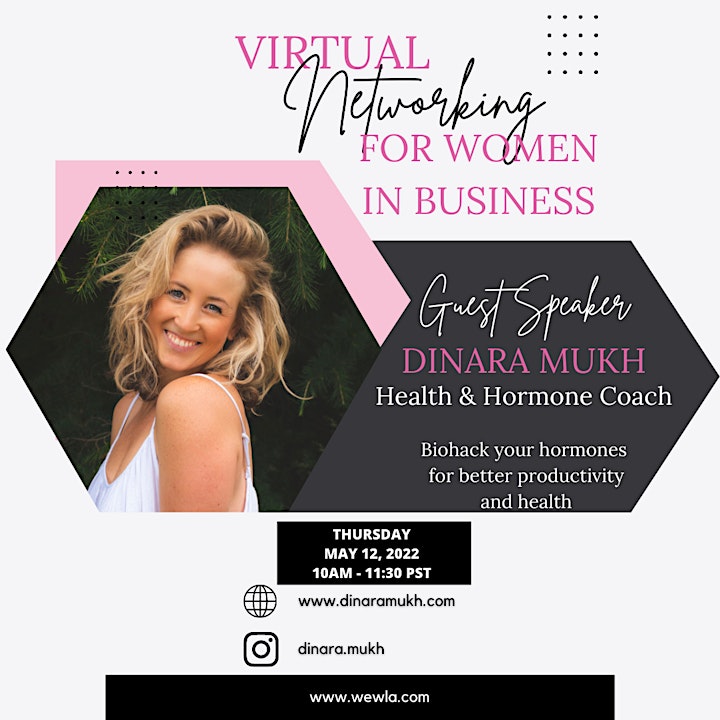 May's speaker is going to share just how important it is to understand your body to be at your best.
Topic: Biohack your hormones for better productivity and health
Dinara is a women's health coach and TEDx speaker. She helps women balance their hormones naturally by bringing awareness to their cycle so they can look and feel great using an integrative and holistic approach combined with evidence-based research.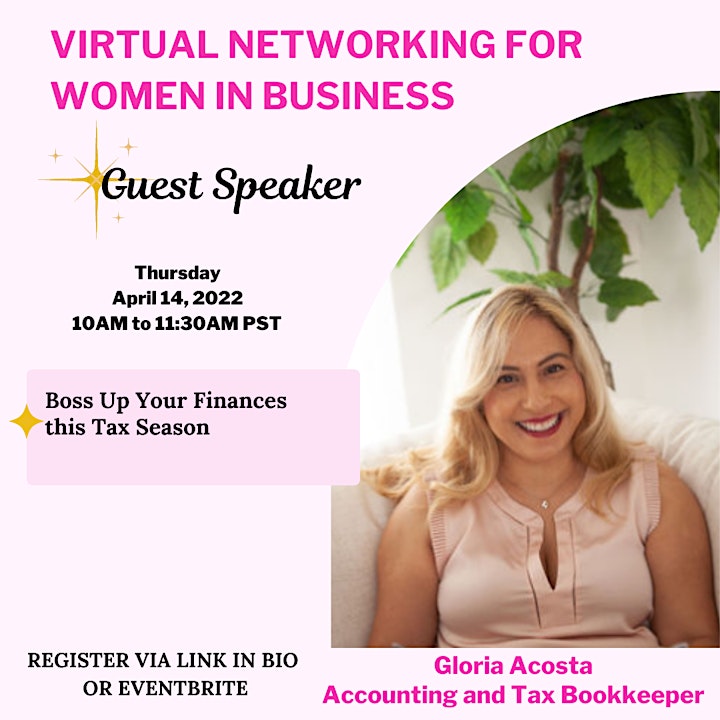 Introducing April's powerhouse Speaker for our next Virtual WIB Event!
Topic: Boss Up Your Finances
Gloria Acosta discovered accounting soon after starting her first job at age 17. Within a few months of being hired at an accounting firm, she transitioned from reception to bookkeeping to help prepare for tax season.
In 2020 after 25 years as an accountant and tax consultant, Gloria founded Boss Up Bookkeeping. She noticed that successful women around her had no problem earning good money; however, they weren't fully equipped nor prepared come tax time.
Gloria's mission is to empower high-achieving women to take control of their finances and make strategic moves with their profits. She partners with successful women by organizing their books each month and forecasting future profits and the unavoidable payout to the IRS.
Gloria lights up when it comes to numbers and, in her words, "totally geeks out." She compares bookkeeping to solving puzzles and gets a kick out of balancing the books. Her positive, high vibe energy makes it easy for friends and family to ask for financial advice. She's known to be positive, always finding solutions but will also give it to you straight, as a big sister would.
Gloria was born and raised in Los Angeles. In her free time, she's either chillin', hanging out near water, sippin' a margarita, or dancing. Gloria is a wife. Her Husband has always encouraged her to pursue her aspirations. A mother to three sons. Her long-term goal is to become a CPA and business strategist, scale her accounting department and use the capital to impact women's lives by providing support and building a women's shelter.
Instagram: @Bossupbookkeeping
Website: bossupbookkeeping.com
MARCH'S SPEAKER ANNOUNCED!
***Justina Cerra***
Marketing Consultant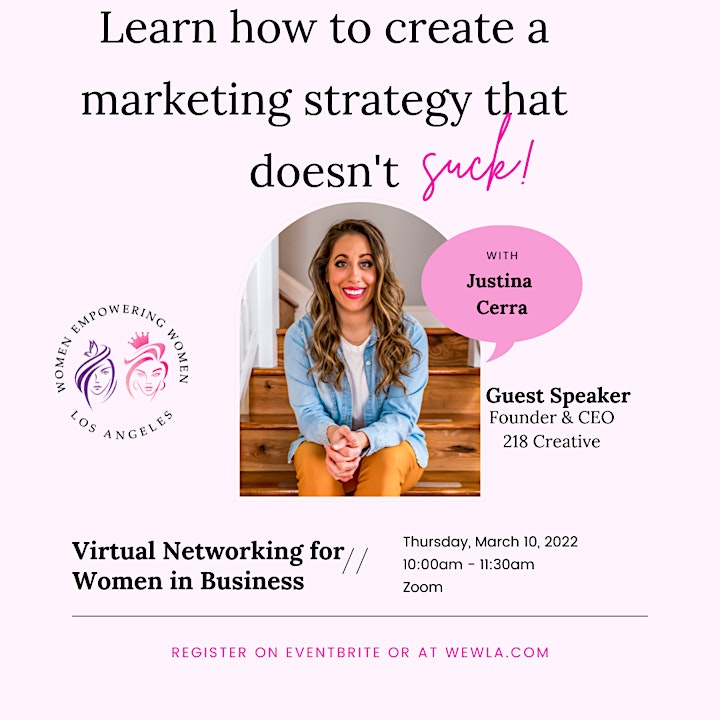 Create a Marketing Strategy That Doesn't Suck! We are so excited to have Justina Cerra Lucas with 218 Creative!
Justina Cerra Lucas is a marketing consultant and the owner of 218 Creative, a boutique marketing consultancy for entrepreneurs and creatives. Her career experience ranges from nonprofit to Hollywood entertainment and everywhere in between, but she has found her best success and joy in working with designers, creatives, and makers. Justina brings thoughtful strategy to the table, pushing back against generic "one size fits all" marketing advice. Instead, she empowers others to dig deeper, simplifying their marketing into more focused solutions that move the needle further. Her ultimate goal is to give her clients marketing strategies and plans that don't suck to manage or maintain.
Be sure to save your spot at our upcoming Women in Business event on Thursday, March 10th, 2022.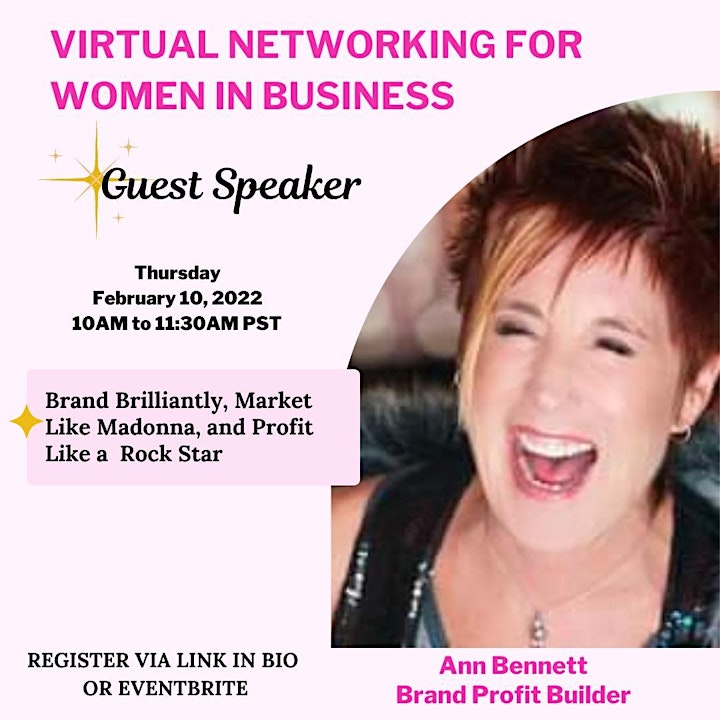 Introducing February's powerhouse Speaker for our next Virtual WIB Event!
Ann Bennett is the founder of Renegade Branding and has spoken across the county and around the world. She is a Best Selling Author, Coach, and Brand Profit Builder. Ann has shared the stage with Thought Leaders like Les Brown, Jack Canfield, Sandra Yancey CEO of eWomen Craig Duswalt of Rock Your Life, and Badass Author, Jen Sincero.
Ann uses her marketing and branding genius to help women entrepreneurs (and a few good men) build their STAND OUT personal brands and boost their profits.
Ann works with purpose-driven entrepreneurs who do transformational work so they can liberate and ignite their unique genius, authentic voice and build a profitable brand platform.
Ann has 25 years of experience in visual and graphic design and has brought her talents to many major magazines from Popular Mechanics to Vogue; "Where the Devil Really does wear Prada".
Ann's personal slogan and the cornerstone of all her programs is, "It's smart to fit in...but it's brilliant and profitable to stand out."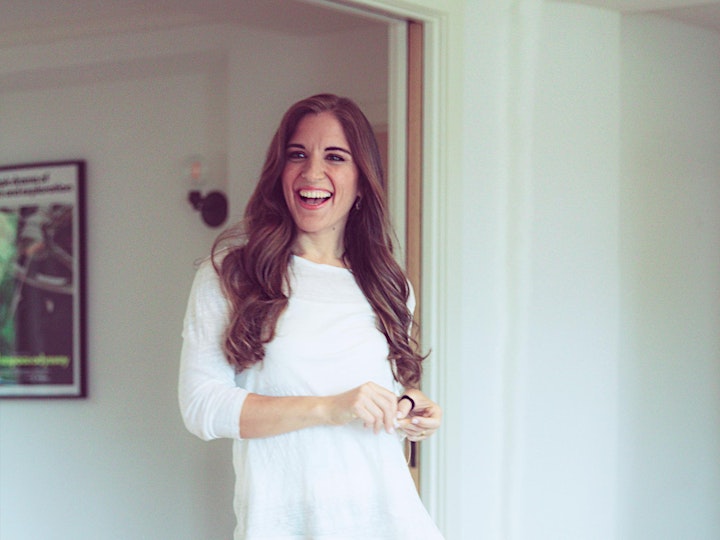 BIO:
Laura always had a passion to help others. She went from being a kindergarten teacher to a music video and award-winning commercial producer to owning a graphic design shop, becoming a business coach and StoryBrand Certified Guide. Now she applies all of her learnings to help entrepreneurs think outside the box and use a proven 7-part storytelling framework to engage their audiences in a meaningful way.
TOPIC:
Stop Worrying About Your Marketing: 7 Proven Principles that work like magic
If you're like most businesses, you're fed up with spending money on marketing that doesn't work. If you knew what to do differently, you would—but you don't, and so you feel stuck. Meanwhile, your sales are lagging. Your bottom line isn't budging. And worst of all, you feel discouraged. Here's the good news: It doesn't have to be that way. In this talk, Laura Castro from Argon Media will share seven simple marketing principles proven to engage customers and grow businesses. You'll walk away knowing how to capture your customers' attention and compel them to buy. Stop worrying about your marketing, and get back to winning in the marketplace.